Thai thoughts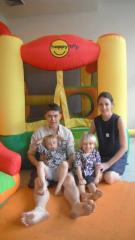 14th Jun 2012 - 25th Jun 2012
Party party!
A few too many photographs...do feel free to scroll through the majority!
We have enjoyed BBQs, picnics in the park and the boys third birthday party! They aren't 3 for a while but as it is the holidays coming as most of their friends will be travelling we thought we would have it early. GREAT fun! Face painting, cake decorating and bouncing is always fun and even though there was ice cream cake and more sugar there was no vomit!! And probably no afternoon naps either! The boys were spoilt rotten and THANK YOU to everyone who came especially Nung nung and Pi Ann who wouldn't let us buy them a lunch but came and tidied and joined in and made the party go with a bang, you really are wonderful!
Hector and Noah had their first Art exhibition and both had works of art featured, we followed the footprint trail and went to the exhibition hall and were suitably wowed! Quite Pollockesque I felt. During the opening ceremony whilst K1 and K2 sang the rainbow song Hector stroked Dan, Dan is Hector's friend and will happily follow him anywhere! Next year Noah is in Miss Margaret's class and Hector is with Mr Raj! Wow! They are booked onto the school bus so so grown up! Where has 3 years gone? They say the funniest things and I really must video some of their chatting very soon for you as it is brilliant. Usually it is about H being the fat controller with a flag and shouting GO and STOP and Noah charging about and then telling H off.
We enjoyed a Goligher BBQ although Nick has been very wiped out with a bug but is OK now so guttingly he missed it, we had a date night this Friday and found a few new lovely places but never got to were we were supposed to be going.
http://www.patana.ac.th/BPSnet/blog/index.asp?id=381 boys blog at school, leave a comment!

http://www.patana.ac.th/BPSnet/blog/index.asp?id=220 My class blog
The end of term is here on Thursday YIPPPPPEEEEEEEEEeeeeeeeeeeee, it's been a long one! We are off to see the Barratts in the Philippines and Lisa too so we can't wait and are in dire need of sunshine.
Congratulations to Lorna and Matt on a gorgeous daughter, Evelyn Joy and to my parents who celebrate their 40th wedding anniversary next week, GOLLY!!!!!!!
Diary Photos
Diary Movies
---