Harry and Judy's RV Trip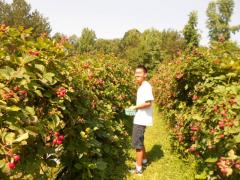 23rd Jun 2012 - Summer 2012
Days 1-5 Atlanta, GA, Concord, NC and Crossville, TN
We started out on our trip not knowing where we are going to end up but we know a few places we are planning to go. After planning and researching for the past couple of months we decided to change the first day of the trip and go up I-75 towards Atlanta instead of I-95 towards Savannah. It turned out to be a nice trip, avoiding lots of little towns (and speed traps) and the campground we stayed in south of Atlanta (Forsyth, GA) was on a little lake and very nice. The next morning we set out for Charlotte to see Harry's daughter, her husband and our grandchildren. This route was about 2 hours longer than I-95 but we broke it up into two days instead of driving straight through so it was fine.
Most of the time we listened to an audiobook, Killing Lincoln, which was interesting even though we know how it ends. The scenery in Georgia and the Carolinas can get boring but all along the interstates are beautiful yellow day lilies and even the kudzu is pretty and makes the hillsides look like topiary trees.
On Wednesday we pulled into the NASCAR speedway campground in Concord, NC where we've stayed many times before 'cause it's the closest one to Janice. We met most of the family (Evan and Kierstyn weren't feeling well) after dinner for frozen yogurt for Georgia's 11th birthday. The next day we all went blackberry picking and then back to the house where the Phase 10 card game got under way. Stayed for dinner and then back to the campground. On Friday we did some shopping , continued the Phase 10 game (still don't know if we finished it). The boys (I went, too) went out to dinner and then to a ballgame while the girls stayed home for Georgia's birthday party sleepover. We had a great time watching the home team Kannapolis Intimidators smash the other team.

Forgot to mention the weather. Can you believe 98 and no air. That's Charlotte.
When we started out we thought maybe we'd try to avoid the Rockies this year but we totally forgot about the Smoky Mountains which are every bit as crazy as the Rockies, a lot more twists and turns but they're pretty. Had a few arguments with the new GPS but we came to an understanding and should be OK from now on. Our next stop is Crossville, TN to see some former neighbors in Florida who moved to TN. We met them for dinner and had a nice visit. The campground we're at is more a resort with a lot of seasonal homes on a lake, very pretty, woodsy, lots of wildlife. We ate breakfast and watched a robin feed its young in a nest that couldn't have been more than ten feet from us. She kept leaving and returning with mouthfuls of something. This part of TN is much cooler than NC, the high today was 84 and that's the warmest it's been all year. It felt good, but the dip in the pool still felt great.
Easy travel day tomorrow to Nashville, which is only 120 miles away. We should get there early and be able to relax.
Diary Photos
---