Harry and Judy's RV Trip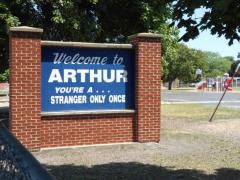 27th Jun 2012 - Summer 2012
Day 9-The Illinois Amish
It got cooler last night all right. At 3:30AM we had to get up to close the windows and find another blanket. But it managed to climb right back up to 94 during the day today.
We started out going to Arthur, IL, where the biggest Amish community is in Illinois-about 6,000. We drove through more sweet corn planted in neat rows and the hap-hazard soybean fields, also some wheat fields and a lot of farms and gardens. The Amish here are a bit friendlier than in Lancaster and other communities we've been too. They don't seem to speak with the German Amish dialect but more "English". There were lots of buggies, both covered and open driven by both men and women, usually with a lot of kids in them but the women and children seem to ride bikes more that drive buggies. The people wave no matter if they're in buggies, passing you on the street or if they're in their fields when we drive by. The Amish we've seen before don't like their picture taken so I try not to. But one man actually waved to me as I took a picture of a parked buggy he was in. I thought it was empty 'til I saw him. Lots of horses and cows and quite a few baby foals and calves. The town of Arthur itself is only about 6 blocks long with shops on either side of the main street but we drove through the outskirts where there's also lots of woodworking shops, bakeries, meat markets, farmer markets, honey farms, egg and chicken farms and everything else you can imagine they would need. Lots of quilt shops and fabric stores.
From Arthur we drove east to Arcola, another small town which is where Raggedy Ann and Andy were born and have their own museum. The whole town, not much bigger than Arthur, was decorated with deep purple and white buntings, banners, flowers, etc. We found out that the "Walldogs" were in town this past week-end to paint about 14 murals around town so there was a big celebration and the high school colors are purple and white. Very pretty and the murals were gorgeous. Lots of town pride in Arcola. Stopped in a few shops and talked to the people, again very nice. One Amish man told me he had been in Sarasota, FL for a funeral once (there's an Amish community there) and it was way too hot for him. I'll take Florida any day, Arthur, IL is way too hot for me.
Drove around some more just admiring the farms and gardens and animals and ended up back in Arthur for dinner at Yoder's Kitchen. Seems there's a Yoder's kitchen at all the Amish places we've been and they all have great comfort food (lots of calories and fat). We shared a piece of coconut cream pie and when the waitress brought it we thought she misunderstood 'cause she had two big pieces but, no, it was only one piece cut in half. Oh, my, it was good.
I always feel "at peace" in an Amish town. Don't know if it's the people, the pace, the way of life (which I wouldn't want for myself) or a combination of a lot of things but it's always enjoyable and relaxing.
Took another look at Lake Shelbyville on the way home. The campground is on the lake we can't see it from our site. It's really quite a big lake. Not many boats on it but on the week-end it gets really busy.
Sat outside read and talked to a neighbor for a while. Really nice out after the sun goes down, beautiful breeze and it gets cooler. Doesn't get dark 'til almost 10 so we have to wait to see all the stars. Turned the AC off again tonight.
Diary Photos
Diary Movies
---