Harry and Judy's RV Trip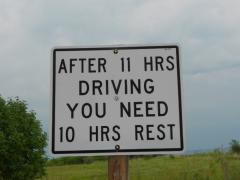 28th Jun 2012 - 28th Jul 2012 - Summer 2012
Day 10-To Bloomington, IL
Last night we had to get up in the middle of the night to put the AC on and by the time we left at 10AM the temp had already risen to 93 and by the end of the day we saw 103.
It was an easy ride through Decatur to Bloomington, IL. Still in prairie country where it's so flat you can see for miles. Lots of wind farms and seed production plants. Miles and miles of corn and soybeans again. The campground we stopped at for the night was a good choice, lots of shade and a nice pool. Every site has a huge tree and it's very breezy but 103 is 103. Got here early (12:30), set up and had lunch. Very quiet here, not many people when we first pulled in but it's getting busier as the day goes on, mostly local people from only a few hours away. Caught up on e-mails and the web-site then read for a while and went in the pool which felt really great.
After dinner I sat outside for a while, it got a bit cooler after the sun went down. Saw lots of robins flitting about and a few rabbits eating the clover. We might watch a DVD later.
Tomorrow off to Crystal Lake to see Harry's brother, Jim and his family.
Diary Photos
| | | |
| --- | --- | --- |
| We don't need a reminder like this | Us at Crystal Lake Lakeside Festival | Full moon tonight |
| Iowa | Harry & the full moon | Iowa |
| CORN | Nebraska border | Lewis & Clark trail |
| Nebraska | Nebraska farm | My Private Driver |
| Happy 4th of July | Welcome to South Dakota | Harry & the full moon |
| Watermelon lady | Me & Harry at Corn Palace | A friend |
| Corn Palace | All this made from corn | Happy 4th of July |
| Just for us | Corn Palace at night | SD prairie |
| Another Wall Drug sign | Black cows | Rest stop |
| Us at Buffalo Gap Nat'l. Grasslands | Inside Wall Drug | Traveler's chapel in Wall Drug |
| Ropes, etc. for sale | Harry in belt heaven | Me in book heaven |
| I know these guys | Doc Holliday, Wild Bill Hickok & a cheater | Free ice water |
| Us at Mt. Rushmore | State flags at Mt.Rushmore | Mt. Rushmore |
| Us Again | Harry in a tunnel | Mt. Rushmore thru a tunnel |
| Lunch at the Game Lodge | Mama & twin prong horn antelopes | Buffalo at Custer State Park |
| Mama & Baby | Beggar burro | Crazy Horse & model |
| Crazy Horse Monument | Crazy Horse Model | More Crazy Horse |
| Us and Crazy Horse | Damn Tourist! | Us & Crazy Horse Model |
| Like Harry needs more rocks! | Needles Highway view | Rock climbers |
| Black Hills | Going thru a tunnel | Feeding a chipmunk |
| Feeding chipmunks | Another tunnel | Sylvan Lake |
| Us at Elk Creek Restaurant | Road to Deadwood | Welcome to Deadwood |
| Harry & the slots | Deadwood bar | Hickok's dead! |
| Deadwood | Cabin in the woods | Down the hill |
| Scenic Byway | Spearfish creek | Bridal Veil Falls |
| Me & Harry at the falls | Deer in front yard | Fish Hatchery |
| No Title | Relaxing | Belle Fourche, Geographical Center of US |
| Geo. Center of US | Flags & Monument | Us at Belle Fourche |
| 200 Miles of this today | Welcome to ND! | Our campsite |
| Us at an overlook | Butte | North Dakota badlands |
| Wild horses | Prairie Dog | Gorgeous clouds |
| Karaoke king | Welcome to Montana | Storm |
| Big Sky Country | Rockies in the distance | Moose up ahead on the right |
| River & Mountains | Trees & water | Yurts at our campground |
| Lake McDonald | Buddy bear | Us at Waterfall |
| Waterfall | SNOW | Jackson Glacier |
| Little Black Bear | Us at Ptarmigan Dining Lodge Many Glacier Hotel | Us at the Glacier |
| Our Bus | Goose Island | Mountain stream |
| Mountain Goat | What a view! | The road ahead |
| McDonalds Creek (2) | McDonalds Creek | Lake McDonald at sunset |
| Campsite from rear | LaClede campsite | Welcome to (wet) Washington |
| Our Camper in Kiona Vineyard | Sunset at Kiona Vineyard | Terra Blanca view |
| The Columbia Crest vineyard | Us at Columbia Crest Vineyard | Horse Heaven Hills |
| The desert | WA Wine Country | Harry picking cherries |
| Rainier cherries | WA Apples | Granger, WA sculpture |
| Us at Teapot in Zillah | Cherries heavy on trees | Mural in Toppenish |
| Barn dance mural in Toppenish | Dinner | Us at Whitstran's Pub |
| Cleaned and ready for the freezer | Mountain in the distance | Us at rest area |
| At the car wash | View from Snoqualmie Pass | These are at the campground...the color is wonderful! |
| Us at entrance to Mt. Rainier Nat'l. Park | Trail of the Shadows | Fallen tree |
| Us at Waterfall | Rockslide | Us at lunch Paradise Inn |
| Snow capped mountain | Us at another waterfall | View |
| Snowball fight | Wildflowers | Us with Mt. Rainier in back |
| Mt. Rainier | Suspension bridge | Harry's weight in gold |
| Blue trees | Houseboats | Bridge troll |
| Voted #2 ugliest apt. building in US | Hill | The Space Needle |
| Us at Space Needle | Pike Place Market | First Starbucks |
| Oh, Deer | Did you ever see a deer peeing, well, I did | Three deer |
| Hurricane Ridge 1 | Hurricane Ridge 2 | Hurricane Ridge 3 |
| Us at Hurricane Ridge | Hurricane Ridge 4 | Me at Hurricane Ridge |
| Vancouver BC in background | Harry before the snowball fight | Harry after the snowball fight |
| The deer sightseeing | Hurricane Ridge 5 | The road down |
| Wildflowers on side of road | Lake Crescent | More Lake Crescent |
| Salmon Cascade Olympic Nat'l. Park | Warning at campground | LaPush beach 2 |
| LaPush beach | LaPush beach 3 | LaPush beach 4 |
| LaPush beach 5 | Us on LaPush beach | Man made hut on beach |
| La Push driftwood | LaPush beach 6 | LaPush Island |
| LaPush beach entrance from campsite | LaPush driftwood pile | Tree lined road in Olympic NP |
| Twilight 12 | Twilight 2 | Twilight 1 |
| Twilight 3 | Twilight 4 | Twilight 5 |
| Twilight 6 | Hoh River Campsite | Us at Hoh Rain Forest |
| Hoh River | Harry and a stump | Moss and a lake |
| Trail walkway | Mossy Tree | Tree arch |
| More ferns | Trees and moss | Mossy tree 1 |
| More walkway | Hoh River 1 | The drive |
| Twilight 7 | Twilight 8 | Twilight 9 |
| Twilight 10 | Twilight 11 | Me and a tree |
| Kalaloch, WA Beach | Yes, Humptulips, WA | Portland, OR |
| Us at lunch Rose Garden | Us in Rose Garden | Rose Garden (2) |
| Rose Garden | Rose garden (3) | Harry & roses |
| Us in garden | Path in garden | Rose garden (4) |
| Rose garden (5) | Rose garden (7) | Rose garden (6) |
| Portland in background | Mt. Hood looming in back | Portland Saturday Market |
| Let's taste test | Us Bridgeport Brew & Pub | |
Diary Movies
---