Harry and Judy's RV Trip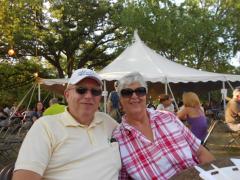 29th Jun 2012 - 1st Jul 2012 - Summer 2012
Days 11-13-Crystal Lake, IL
Late night last night. It was so nice out I didn't come in 'til late and then we decided to watch a movie. By the time we figured out how to work the DVD player it was after 10. We probably should have asked the 3 year old camped next to us. And the same 3 year old (and her 1 yr. old sister) did NOT make any noise this morning to wake us up so we slept in. And it's all their fault. Got a late start but it wasn't a long trip, only 150 miles which took us three hours.
Different road kill here. Now we see skunks and badgers and a lot of live red-winged blackbirds in the corn fields. Got to the campground early and after we set up we jumped in the pool. It's not as hot as it's been and we did drive through a bit of rain that cooled it down but it's still hot. Met up with Jim, Jackie and Kristen for dinner and then played Phase 10 (Harry won, of course!).
Saturday the heat wave came back again so we chilled in the house and played more cards. Started with Spades, which we hadn't played in years. We played teams and Jim and Harry stomped the you-know-what out of me and Jackie so we switched to Phase 10 (Jim won, of course!). We stopped in the middle of the game to eat the wonderful ribs Jim cooked up for us with his special recipe and then again to go rejuvenate ourselves at the ice cream parlor.
Sunday was the last day of the annual Crystal Lake Lakeside Festival so we went there for some food, entertainment, courtesy of a great band called Modern Romeos (they were really good) and really good fireworks over the lake. Back to the campground to see a silvery full moon shining over the RV.
Was really good to see Jim, Jackie and Kristen, we don't get to see them very often.
Diary Photos
1st Jul 2012 Us at Crystal Lake Lakeside Festival
---
1st Jul 2012 Full moon tonight
---