Harry and Judy's RV Trip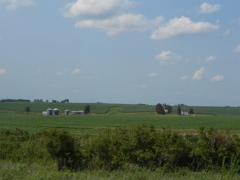 2nd Jul 2012 - 3rd Jul 2012 - Summer 2012
Days 14 & 15-Iowa & Nebraska
Days 14-15 Iowa & Nebraska
July 2-We now have absolutely no itinery, nobody to see, no time frame and no place to be. It's like the beginning of our trip and we're heading toward new territory.
Left campground and drove 340 miles to Adel, IA (West Des Moines) in 7 hours. Got to the campground and hit the pool within a half hour of getting here. Harry said I looked like I was really withering and I felt the same way, the heat and humidity is oppressive. We finally ventured out of the RV at 11PM and it was gorgeous, a nice breeze and full moon. Second day (Tues.) drove 350 miles in 7-1/2 hours to Mitchell, SD.
This is how I see Iowa. Over 200 miles of corn, 99 degrees, soybeans, corn, corn, soybeans, bugs on the windshield, corn, Des Moines, corn, soybeans, the Bridges of Madison County, corn. Stopped for the night. Then over 100 more miles of corn, soybeans, you get the picture, I'm sure. I kept thinking of acronyms for Iowa:
I Only Want A way out
If Only We'd Airlifted through here
I've Often Wondered Aloud why we're here
In Other Words Awfully boring
That's Iowa in a corn husk.
Now, let's talk about Nebraska. Corn, soybeans, the same old, same old. Lots of trucks on I-80, pretty pink and purple clover and some yellow wildflowers on the side of the road. Just east of Omaha we got off the interstate and took back roads into Nebraska. The back roads are better, more to see. Small farms and ranches, each with their own tornado shelter, usually a mound of dirt with a steel door near the house. You can imagine a tornado coming over the prairie as you watch all the corn fields go by. There are some rolling hills but for the most part it's all flat. Some horses and cows now, a few gold finches flew in front of the car and lots of robins. We drove part of the Lewis and Clark Trail through Missouri Valley, IA, the north through the Omaha Indian Reservation and the bigger Winnebago Indian Reservation. Lots of casinos here, too. We found fuel at a really low price, probably because it was on the reservation and there weren't so many taxes.
Drove north through Sioux Falls and then Sioux City, both big cities with lots of construction, then west to Mitchell, SD where we stopped for the night (or two or three). Great campground, it's a Passport America member so it's half price. We asked for a shady spot near the pool and that's exactly what we got. It was 101 degrees when we stopped at 5PM so we unhooked and hit the pool. We're getting really good at un-hooking, setting up and getting dinner just about ready to go on the table in about a half hour. The heat is supposed to last a few more days (104 tomorrow) so we might stay here and relax. We need to do laundry, figure our next stop and restock some groceries and Mitchell looks like a good place to do it. Plus it's the home of the only "Corn Palace", which we're going to see tomorrow. Don't know if there will be any fireworks, the fire danger is really high and there are fires to the south of us.
Nebraska and South Dakota are two states we haven't been in before so we get to put two new state stickers on the side of the RV. They are numbers 46 and 47, only three more to go.
We started our third book on tape, a thriller set on Lake Waramaug in Danbury, CT. It mentions places like Litchfield, Washington, Kent, Oxford and local places around there that are familiar to us so it's interesting. We only listen to it on long stretches of interstates so it'll be a few days before we continue it.
Diary Photos
Diary Movies
---