Harry and Judy's RV Trip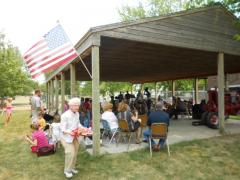 4th Jul 2012 - Summer 2012
Day 16-Mitchell, SD
Day 16-July 4. 2012-Mitchell, SD
HAPPY FOURTH OF JULY!!!
Saw some fireworks in the distance last night and another beautiful full moon. Got really windy after the sun went down but cooler, too. Supposed to have Wi-Fi here but neither one of us can connect.
Did I really think we would relax??? Got up early and did a ton of laundry. Should have just skipped the dryer part and hung stuff out to dry, that's how windy and hot it was. By the time we got done we needed a dip in the pool.
Went out and our first stop was the visitor's center where we got some good info about local stuff and also the Black Hills area. We went to the Dakota Discovery Museum where there was an ice cream social going on, complete with some good ole music, ice cream sundaes, lemonade, watermelon and a favorite today, ice water. Lots of old buildings we could tour from the 1800's. Also right in town in the George McGovern Library which is part of the Dakota College in town. By now it's 102 and we're melting.
Next stop was the Corn Palace. What a surprise! This is a building with a stage inside where anybody who's anybody has played that's also used for basketball games. This is the third one, each one being built bigger than the previous. The original reason was to show people that you could make a living off corn in S. Dakota. Every year it's decorated with corn and has a different theme. Thirteen different colors are all grown by one farmer who plants the different colors in a separate field to keep the colors pure. Artists map out the scenes and local people cut the corn and staple it to the side of the building. They liken it to corn by numbers. Very original. And air conditioned.
Took a ride out to Lake Mitchell thinking it would be cooler…NOT!! It's still like a sauna. Saw where they're setting up for some fireworks tonight. Pretty lake, quite large with all kinds of houses around, from the summer rentals to the big mansions.
Fueled up for our trip tomorrow and went to the grocery store, Coborn's is the local one here. They were a bit expensive but we think it will be more expensive once we get to Mt. Rushmore.
Came back to camp for dinner, looked at some maps to plan tomorrow, then took a walk around the campground. It's small but quiet and nice. Funny to see a snowplow in the parking lot but they tell us they get bad winters here.
Drove back to see the Corn Palace lit up at night and decided to drive out to Lake Mitchell again to see the fireworks. We had been told the traffic would be really bad but we kept driving with no traffic around until we were just about on top of where they were set off. Got a great parking spot right on the lake and they were really great. No traffic on the way out either. We were back to the campground within 20 minutes from when we left the lake. Sure not like Calf Pasture where we used to sit and wait for two hours.
Diary Photos
Diary Movies
---