Harry and Judy's RV Trip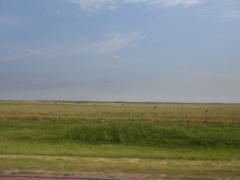 5th Jul 2012 - Summer 2012
Day 17-To the Black Hills
Day 17-July 5, 2012-To the Black Hills
When we left camp it was only 81 and a bit cloudy but by the time we stopped it was back up to 95 and sunny. Did feel a bit cooler, thank you very much.
We're still in prairie country but now we're seeing more black cows, horses, wheat and rolled hay bales instead of corn. Also lots of beehives. Crossed the Missouri River and got some small rolling hills but then back to prairie. Crossed over to Mountain Time just after noon and I had a hard time all day knowing what time it really is. We've now gone over 3000 miles on this trip.
We stopped at a visitor's center and they told us there was a fire in Custer (where we're going) but it's now contained but it still might be smoky. We're seeing signs on the highway "Extreme Fire Danger..don't throw cigarettes out the window".
Stopped at Buffalo Gap National Grasslands for a rest, 591,000 acres of grassland, vast and empty. Saw some prairie dog mounds and more cattle. Passed through DeSmet, where Laura Ingalls Wilder lived and wrote about in the "Little House on the Prairie" series. The house is still there.
For the past 200 or so miles we've been seeing signs for Wall Drug Store, a store started in 1931 by a couple who figured people travelling out here would need a rest so they started advertising "free ice water" with signs on the roads. From there it's grown into a block long sight-seers paradise with every kind of store, food, attraction you can think of inside, outside or around it. It gets 20,000 visitors a day and I think they were all there when we were. Ice water is still free, coffee is still 5 cents (free with a donut to vets so Harry's was on the house). They even have an animated T-Rex. The place is indescribable, you have to see it to believe it. We spent a good two hours there.
Wall is named because there's a nine mile long jagged wall-like ridge that is on the Badlands north rim. This is the "window to the west" and from now on we start to see more hills and trees. We stopped about 5:30 (or is it 4:30) at a campground in Piedmont, a little west of Rapid City. Saw the funniest sight in Rapid City, between the interstate and a car dealership a herd of cattle grazing. Imagine a herd of cows in the median on I-95!
Just as we pulled in it started to thunder and rain and it's been on and off all night. A lot cooler, we're in a valley surrounded by big trees. Went to plug in the electric and there was a bee's nest in the electric box. Harry, my hero, said he'd do it and he did it all right, got stung on the finger. We'll have to remember to do away with it before we leave.
Set up a tour of the Badlands tomorrow. Glad we set it up on the road, there's no cell service here, but at least we have internet. They'll pick us up early and it's about a 9-10 hour day. Should be fun and give Harry a chance to not have to drive and get to see all the sights.
Diary Photos
---