Harry and Judy's RV Trip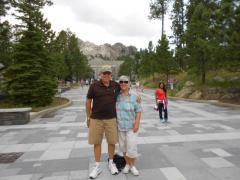 6th Jul 2012 - Summer 2012
Day 18-Mt. Rushmore & Crazy Horse
Day 18-July 6, 2012-Black Hills Tour
Rained and thunder all night but it's only cloudy this morning, and cooler, only got up to 78 all day.
We set up a tour with Discovery Tours and they picked us up at the campground at 8AM and returned us at 5:30PM. Long day but a great time. There was only one other couple on the tour and our guide, Susan, who's lived here forever.
The Black Hills cover 100 x 60 miles or 2.2 million acres and 80% of it is National Forest. The #1 product here is tourism in the summer and we found out today they usually expect a blizzard by Halloween and they've had 3 feet of snow on Mother's Day in May so it's a really short tourism season. The #2 product is logging the Ponderosa Pine and that's in trouble because the pine beetle is killing the trees. They've started exporting the dead wood to China.
We started the trip with a drive through Keystone, a cute little mining town with lots of shops and the 1880 railroad. Very busy, even this early. We then drove up Iron Mountain Rd., aka the Peter Norbeck Scenic Byway, a one-lane road that solved the problem of going up by using pigtail bridges similar to hairpin turns but they curl around like a pig's tail. They are also tunnels (wide enough for only one car) and every tunnel has a view of Mt. Rushmore when you come out on the other side. They even trim all the trees so it's visible.
Mt. Rushmore was very interesting and awe inspiring when we listened to the movie about how it was sculpted, with dynamite and small drills and tools. Glad we came all this way to see it. We were early enough so there weren't too many people there yet. We noticed yesterday that the flags were all at half-mast and found out it's because four firemen were killed in a plane crash as they were coming here to fight the fire in Edgemont, about 50 miles south. We didn't see much smoke but some people we met at dinner said a few days ago there was ash falling from the sky here and the town was smoky. It's still going south of us so we're going to keep going north.
From Mt. Rushmore we drove through Custer State Park looking for animals but there were none so we went to lunch early at the Game Lodge, the summer white house for Coolidge in 1927. Had a great buffet that included buffalo stew and some of the best fish I've ever had. Doubled back after lunch through the park and stumbled on a pronghorn antelope with twins (they say that's rare and probably because they had an easy winter). They were really cute and came right up to the road. Then we saw what they call "beggar burros" because they come up to the cars to beg for food. They are descendants of burros that were used to transport people through the park years ago. The driver gave him an apple. Going further we ran into a herd of buffalo (about 200 in this herd, there are 2000 in the park, the largest state owned buffalo herd), with huge males and little babies. We had to stop and let them cross the road and we stayed there about a half hour.
Then the drive to Crazy Horse Monument, another sculpture in rock, this one much larger than Mt. Rushmore. The four heads of Mt. Rushmore would fit into just the head and headdress of Crazy Horse with room to spare. It's the world's largest sculpture, the head being 87-1/2' high, the outstretched arm 263'. This was commissioned in 1948 by a Lakota Indian leader to show that the Indians had heroes too. It's still a work in progress, with only the (after 63 years). The sculptor died and his wife and 7 of his 10 children are continuing the project. This is dedicated to all the tribes and is really very impressive. It's all being done by one family. Harry spotted a mountain goat on the monument when he was looking through the telescope.
On the way back we drove through Custer City, another old mining town, now mostly for tourists and then up Needles Highway, another one lane road with tunnels, some only 8 feet wide. We really got to see the damage done by the pine beetle on this trip, lots of dead trees, but beautiful mountain peaks that are thin and tall and resemble needles (sort of). We saw some people climbing the rocks and stopped at a scenic area that was overrun with chipmunks that would come up and take peanuts out of your hand. Also drove around Sylvan Lake, still in the National Forest, one of the most photographed lakes in the country, where a wedding was taking place.
Down the mountain again to our last stop at Prairie Berry Winery for a taste testing. Their signature wine was Red Ass (as in donkey) Rhubarb. They were all too sweet for us so we passed on buying anything. Drove through Hill City on the way back, a nice little town again mostly for tourists.
After we got back we went back out to Sturgis to see if there was a place for dinner. We figured with the motorcycle rally there every year there should be something good, but we didn't find anything so we went to Elk Creek Restaurant right down the street from the campground. Nice place, they had elk and buffalo on the menu but I was still full from lunch and opted for a salad.
Came back to camp about 8:30 and tried to plan our next leg but had very slow Wi-Fi and gave up. Got an idea from maps and camp books but we'll have to check mileage and available campgrounds when we get some cell service and internet service. What did we ever do before electronics?
And get this, it was only 64 out and we had to turn the heat on to take the chill out.
Diary Photos
Diary Movies
---