Harry and Judy's RV Trip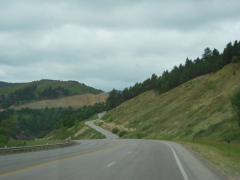 7th Jul 2012 - Summer 2012
Day 19-Deadwood & Spearfish Canyon
Day 19-July 7, 2012-Deadwood & Spearfish Canyon, SD
Got up early, packed a lunch and got on the road. It was on 60 degrees when we left but managed to climb up to 75 by the end of the day.
Started the day with a disagreement with T-Mobile, they changed their roaming rules because they can so we weren't getting any messages or calls. Bye, bye, T-Mobile.
Drove up I-90 to Sturgis and then took Route 14A, what they call the Northern Black Hills National Forest Loop through Boulder Canyon, where we stopped to taste some wine, (still too sweet) Deadwood, Ice Box Canyon, Cheyenne Crossing to Spearfish and then back to camp.
Deadwood is known for its bars, brothels and gaming back in the Wild West during the 1876 gold rush and it's the same today. No more gold but there's still gaming places all up and down the one main street. We tried our luck and cashed in when we were 51 cents ahead. They have re-enactments of how Wild Bill Hickok was shot and we drove up (way up, what a steep hill) to Boot Hill where he's buried along with Calamity Jane, Poker Alice, Potato Creek Johnny among others. For a Saturday it was kind of quiet although it probably gets busier later in the day. After the tourists leave in the fall they have concerts and lots of festivals. (Helen, Herman's Hermits in Oct.) At the foot of Boot Hill we found a nice little park and stopped for lunch. Tried another winery but they're still too sweet.
Deadwood is in Deadwood Gulch and from there it's all uphill so we drove up to Lead, a gold mining town where you can still go into the mines and take a tour. Lots of info about mining, too.
We then drove down a 3-mile 7% grade twisty, curvy road to the Spearfish Canyon Scenic Byway, a 22 mile up and down, round and round ride with rugged cliffs, a beautiful clear flowing river, 3 waterfalls and gorgeous log homes buried in between the cliffs and huge pine trees. Lots of fly fishing going on. This was definitely the high point of the day, a really enjoyable drive.
This road took us to Spearfish where we stopped for a car wash and then continued on to the D.C. Booth Historic Fish Hatchery. Looked easy enough to find 'til we put it into the GPS, which was on vacation today. Took us down three dead-ends, past one house with a cute little deer wandering around the front yard. We finally saw a man in his yard laughing and we knew he was used to people getting lost. He directed us (it was right down the street) adjacent to a park where there was a wedding going on at one end and a bean bag tournament at the other. After all this we didn't stay long at the hatchery, which was mostly trout, but headed back to camp. On the way back we again changed our minds about where to go next and decided to head north to North Dakota and see Theodore Roosevelt National Park. Had to call for reservations from the road because there's no cell service at the campground (or anywhere around it) and had a hard time finding a place. Finally found a place right in Medora, ND who assured me we wouldn't have any trouble with the oil people up there and that it really wasn't all that busy because of them but because of the tourists.
Got back to camp about 5PM, relaxed with a book and a vodka tonic with limes from our plant back home. Ah, the good life. Heard a party going on at the Lodge in the campground so we took a walk up and there was a family reunion going on. They invited us to stay for chili but we had already eaten. Back to camp for some Rummikubes.
Diary Photos
Diary Movies
---