Harry and Judy's RV Trip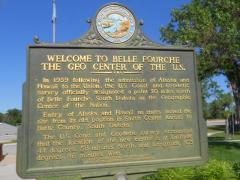 8th Jul 2012 - Summer 2012
Day 20-To North Dakota
Day 20-July 8, 2012-To Medora, ND
Drove 245 miles today in 5-1/2 hours, pulled into the campground at 2:30, which is really nice. Gives us the rest of the day to do whatever. Wonderful weather, started at 68 and got up to 91, sunny and breezy.
Stopped in Belle Fourche, SD, which is the geographical center of the US. Visitor center was closed 'til noon on Sunday so we didn't go inside but saw the monument.
After that was NOTHING for 150 miles. A one lane road, route 85, nothing along the way except open ranges, some grazing cattle, some up near the road, others looked like small dots on the range. Big sky country, very pretty but desolate. Saw some beautiful big hawks swooping over the prairie. After 150 miles we drove through the ONLY town, Buffalo, SD, population 380. About 4 businesses. Then more nothing.
After we crossed over to North Dakota we started to see some corn fields, soybeans, wheat and some oil wells. It started to get more populated, every now and then we'd see a ranch house, a buffalo herd, a cattle herd.
Drove through the National Grasslands north of Bowman, ND and then to Interstate 94 W to Medora. The campground is right across the street from the Theodore Roosevelt National Park, which we'll go to tomorrow. We already drove through some painted canyons on the road here that were beautiful. Don't know what else is here, we drove through the usual tourist town strip mall on the way in. Campground is great, we're in the back near the woods, but we have internet, cable TV and cell phones-YEA!!!! I remember when we'd go camping to get away from ringing phones.
Diary Photos
---