Harry and Judy's RV Trip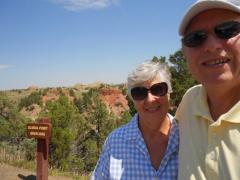 9th Jul 2012 - Summer 2012
Day 21-Theodore Roosevelt National Park-ND Badlands
Day21-July 9, 2012
Hot today-99 degrees and 15% humidity.
Today we drove the 32 mile scenic road through Theodore Roosevelt National Park in the N.D. badlands. The park entrance is right across the street from the campground so we didn't have far to go. It took us over five hours in the park because we stopped quite a bit. The park is over 70,000 acres of beautiful buttes, grasslands, prairie, sagebrush, cottonwood trees, wildflowers and lots of wildlife. We saw a lot of buffalo poop but no buffalo. Wherever there's an open prairie there's a prairie dog "town" and it's just like the wak-a-mole game, whenever one pops out of a hole another one pops down. They're really cute, scampering all over the place.
We also met a herd of wild horses as we came up a hill, they were just standing and romping on the side of the road and seemed a lot happier than the horses we met later on that were in a corral. We pulled over to the side of the road and ate lunch as we watched them.
Quiet and serene in the park, all you hear is the twittering of the birds and the chirping of the prairie dogs if you get too close. Gorgeous white clouds that seem to hang right over your head. Guess that's why Roosevelt loved it so much.
Met a couple from Port Jefferson, Long Island who were in a campground in Southwest Illinois when we were in Northwest Illinois last week. There was a tornado that went through their campground and a hundred year old tree fell on a motorhome, crushing it and sending the people in it to the hospital. Glad we missed that.
Not much else to do here in ND-we skipped the Cowboy Hall of Fame and the steak pitchfork fondue. We came back to the campground and made reservations for the next few days, we're headed through Montana to Glacier National Park. After dinner we took a ride through "town"-the one street with tourist stuff, but everything was closed except the Peanut Bar-we skipped that too. Saw a herd of elk and a few deer on the way back. There's karaoke every night at the campground and you wouldn't believe the sounds that come out of some people.
All in all, I'm glad we decided to visit N. Dakota. The park was great and the people in both Dakotas are wonderful, very laid back, happy to see tourists before they settle down for a long, hard winter not long from now. We learned that Dakota means friend in Sioux and that's how they treated us-as friends.
Diary Photos
Diary Movies
---