Harry and Judy's RV Trip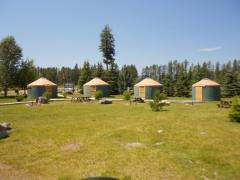 12th Jul 2012 - Summer 2012
Day 24-Coram and Hungry Horse, MT
Day 24-July 12, 2012-Coram, MT
Got up at 1:30AM and went outside to look at the stars and it was worth it. There are more stars than I've ever seen up there. It's cold out too, it went down to 55 last night. I got up again at 4:30 and saw the brilliant moon but it was too bright to see the stars as well as before.
Chore day, did a bunch of laundry and registered to stay here another day. Made reservations for the Red Bus tour tomorrow. After lunch we drove into "town" to get a propane tank filled and passed a whiskey bar on the way. They make their own right on the premises so we had to stop. I'm not a whiskey drinker but Harry found something he liked. There was a hair salon right in the same area as the propane so we both got haircuts. Believe it or not, I'm happy with it.
Saw a sign for "Hungry Horse Dam" so we checked it out. Nice lake, very rocky bottom, but warmer than I thought it would be. Lots of people there, it's 92 out today, but lots of black flies too. There's a lot of hazy smoke in the valleys and we found out there's a big fire near Helena (SE of us) and also in the Bitterroot Mts. (South of Us). The smoke dissipates toward the top of the mountains but gets stuck in the valleys. Between the smoke and the pine trees it smells like Christmas Eve with a fireplace going.
Drove north to West Glacier and the entrance to the Park. Stopped at Apgar Visitor center and McDonald Lake to see about renting a kayak or canoe another day. Might be fun if we have the time. Drove up the road in the park a bit past fire damage that had been done in 2003. Lots of trees burned, but it's starting to come back. Stopped at a meadow overlook and saw just the back of an animal grazing. The grass was so high it was up to its shoulders and it was far away. Even with binoculars we could only see antlers when it looked up and stopped feeding but couldn't figure out if it was a deer, an elk or a moose.
Lots of tourist shops in West Glacier, all overpriced, of course, but fun to browse through.
Back to camp for dinner. Met a couple across the way from us from Oregon and another from Bayport, Long Island. The wife's boss just bought a house in Homosassa. Like I said, it's a small world. Talked with them for quite a while then went in and read a bit. Early day tomorrow on the bus tour.
Diary Photos
---