Harry and Judy's RV Trip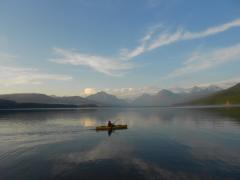 14th Jul 2012 - Summer 2012
Day 26-Relaxation
Day 26-July 14, 2012-Time to relax
Rained off and on all night but mostly just cloudy and misty today, sunny every now and then. Caught up on some phone calls, e-mails, Skyped with Heather, Martin & Evie (Skype is great, 7000 miles away and it's like they're next door, except for hugs and kisses, that is), read some and generally did not much of anything in the morning.
Looked again at all the maps, tour books and campground books that are strewn all over the rv and decided to head southwest a bit, not really sure where, guess we'll decide while we're on the road tomorrow.
Read a bit and then had dinner after which we took a ride up the "Going to the Sun" road again but didn't see any wildlife, not too many people either. It was really foggy and misty toward the summit. We only went about 20 miles up. Back to camp to pack up and get ready to leave tomorrow.
Diary Photos
14th Jul 2012 Lake McDonald at sunset
Diary Movies
---