Harry and Judy's RV Trip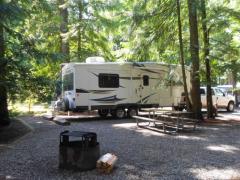 15th Jul 2012 - 16th Jul 2012 - Summer 2012
Day 27-28-Idaho
Day 27-July 15, 2012
Left camp about 9 and drove 216 miles in 5-3/4 hours to LaClede, ID about 50 miles NE of Spokane, WA. It was a good day to travel because it rained (and poured sometimes) all morning. Glad we did our sight seeing the last two days because with the mist and low clouds we can't even see the mountains.
Instead of the Interstate we decided to follow Route 2 and even though it was probably a bit longer we were told it was easier to go over the Rockies this way and it was a great trip. It was a two-lane road through a few small towns always following a beautiful river or lake in the pine forest. Lots of fishing and hunting through here and we saw quite a few deer, some right up near the road, others just specks in the distance. Speed limit was 70 in some places. Stopped for lunch at a parking lot in Libby, MT and heated up some soup which hit the spot on a day like today. We're really close to Canada again (about 12 miles) in Bonner's Ferry, ID, the biggest city we went through.
When we crossed into Idaho we went to Pacific Time, so it might get dark at a decent hour instead of 11PM like the past few days. This helped us when we stopped early (2PM Pacific Time) to get a campsite. We're at a Corps of Engineers camp in the Riley Creek Rec Area on the Pend Oreille River (aka Priest River) in LaClede, a big river with lots of boating, fishing, etc. There's a nice beach with a picnic area with people swimming at one end. An amphitheater where a "ranger" gives talks, a boat ramp, hiking and cross country skiing trails, too. Corps of Engineers camps are always great, usually on water, cheap (we also get ½ price with the Federal Golden Pass) and always woodsy, big, clean, quiet and pretty. You have to reserve three days in advance (which we usually never do) after that it's first come, first served. The office doesn't open 'til 2 and we were the first ones here but it really got busy after that. And they said they were filled 'til Oct. except for the 1st come, 1st served sites. And the weather got beautiful as soon as we pulled in. The sun came out, it's only about 70. We had a fire tonight, our first one this trip, it's either been too hot to have one or too dry and there's been a ban. Decided to stay two nights instead just one as we originally planned because it's beautiful, Harry has a good book he wants to finish (I can't get into the one I started, so I'm being a pain-maybe I'll start another one) and wherever we're going next can wait for another day.

Day 28-July 16, 2012
Monday morning we got on our fold-up bikes and rode down to the pay phone seeing that we have no cell service and we want to reserve a campground for the next couple of days but the phone was out of order. We unhitched the truck and went into town (we had our choice, 12 miles one way or 13 the other) but the only place we had service was in the middle of a bridge. We're in a valley in the Rocky Mountains so I guess we have to expect it. Got some info about campgrounds in Washington and stopped at a Mitchell's Grocery Store for a few things.
This is logging country and there's a big lumber yard down the street where they have thousands of logs and they make ply-wood and planks. Passed a big sawmill too. Lots of logging trucks on the road and there's a big "TimberFest" the end of this month. The town of Priest River calls itself a "Progressive Timber Community."
Back at camp we went for a longer bike ride. The little bikes are OK for a short trip but after a while everything you own starts to hurt and pinch. Harry's really into his book and I started a new one so we read for quite a while, then had dinner and another fire. Warmer today, about 83, they say it's more humid than usual here but I like it.
It's really quiet during the day here. There aren't too many campers left from the week-end and the ones that remain are probably out on the water. The trees are majestic, we found out they're cedars but the leaves look like ferns. They're tall and stately and smell great. Not much wildlife, lots of crows, butterflies, a few squirrels, bird sounds we've never heard before and very few mosquitos considering we're in the woods.
Diary Photos
15th Jul 2012 Campsite from rear
No Description
---
15th Jul 2012 LaClede campsite
---