Harry and Judy's RV Trip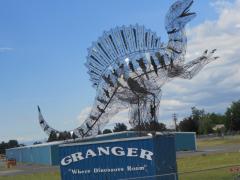 20th Jul 2012 - Summer 2012
Day 32-Zillah & Toppenish, WA
Day 32-July 20, 2012-Drive to Zillah & Toppenish
Our first stop today was to the Chukar Cherry Factory in Prosser, they make everything on site and they have every king of cherry product you can think of, from salsa, dessert toppings, dried berries and chocolate covered cherries to cherry almond caramel corn and jellies, cherry fudge and truffles, bbq sauce, the list goes on and on. And we had to sample everything.
From there we drove west on the Yakima Valley Highway through Granger, known for their 29 dinosaur life size sculptures because there have been teeth and tusks found here, on to Zillah where we first stopped at the Teapot Dome Service Station National Landmark, a house shaped like a teapot with gas pumps (27.9 cents a gallon) out front. Eventually it will be a visitor center, it's vacant now. We then did a few wineries in Zillah which is in the Rattlesnake Hills AVA. An AVA (American Viticultural Area) is designated by different climate, soil, etc. and there are nine of them in the Yakima Valley. This is the third one we've visited, the other two being Red Mountain and Horse Heaven Hills. Each one has a different kind of grape and therefore a different wine.
We drove through more orchards, apple, nectarine, pear (this is, of course, Washington, home of apples and cherries). So of course more cherries, this time Bing cherries so we had to stop and pick some more. Don't know how we'll fit them all in the freezer.
On the way back we stopped at Toppenish, an American Indian (Yamaka Nation) town with 73 gorgeous murals painted on the sides of buildings each one depicting an event or person that made a contribution to the area. Each one was beautiful and every year the first week of June they have a few artists come and paint another one. Sometimes they carried from the side of the building over to the front. Driving down the main street you didn't know whether to look to the right, left or side. It was beautiful.
Decided to go to the Whitstran's Pub for dinner, the place where Harry liked the ale yesterday. I made the mistake of getting a flight of the seven they had on tap. Back to camp about 7 and got the cherries ready for the freezer. It's hot again, but better today, the humidity went down during the day and it's only about 84 now. Going to get ready to leave tomorrow for Seattle and jump in the pool.
Diary Photos
Diary Movies
---