Harry and Judy's RV Trip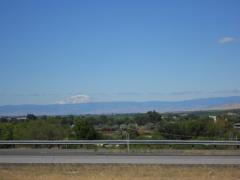 21st Jul 2012 - Summer 2012
Day 33-To Seattle
Day 33-July 21, 2012-To Seattle
Drove 201 miles in a little under 5-1/2 hours. Yes, we did stop quite a bit.
As we headed west on Route 82 we noticed we could see a snow covered mountain and then, oh my, two snow covered mountains. We think they were Mt. St. Helens and Mt. Rainier and we could see them both together for just a little while.
We stopped in Ellensburg at a truck/rv wash and wax and these two men did a great job with big brushes and big hoses. The RV never looked this good, the truck looked great too. Stopped a little further west in Cle Elum for lunch, we pulled over near a local park and heated up the chili from the other night.
We then drove through the Cascade Range up and down the mountains through Snoqualmie Pass in the Wenatchee National Forest, beautiful scenery. Hit traffic outside of Redmond, WA, about a half hour from our campground. Seems a car was on fire and it backed up traffic for about 20 minutes but it wasn't that bad. Got in to the campground (a nice KOA) about 3PM.
Set up, took a walk around and read for a while. It's cooler here, only a high of 75 today, but it's sunny and beautiful. We booked a tour to Mt. Rainier for tomorrow, wanted to do it Monday but the company only runs on the week-ends. Maybe it's better this way, tomorrow's supposed to be nice and sunny again and they say that's unusual, it's usually cloudy and rainy. Heated pool here, maybe?????
Diary Photos
---