Harry and Judy's RV Trip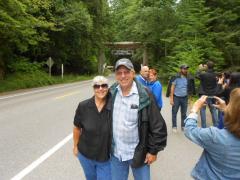 22nd Jul 2012 - Summer 2012
Day 34-July 22, 2012-Mt. Rainier, WA
Day 34-July 22, 2012-Mt. Rainier Tour
It was a great idea not to stop at Mt. Rainier yesterday on our way to Seattle but to drive straight here on the Interstate and then take a tour from the campground. Not only would it have been a long day, not too many roads go through the mountain and they're all mountain roads (and we would have had the RV) but Harry wouldn't haven't gotten to see much being the driver, plus the tour guide was excellent and took us places we never would have known about.
This was a 12 hour, 257 mile round trip tour. We were the last ones picked up in a 17 passenger van from the campground (which also meant we were the first ones dropped off at the end) so there weren't too many seats together but the co-pilot front seat and the one behind it were so we jumped at those and they were the best seats in the house, especially mine up front.
It took over an hour to get to the Park but we travelled through some cute little towns and saw some local sites on the way. Sort of cloudy and misty in the morning but we're hoping it'll burn off so we can see the mountain. Walked the .7 mile Trail of the Shadows in the rain forest section of the park and saw lots of beaver dams and felled trees. Also saw a wood ant hill about 4 feet high that gave us the willies with them all scurrying around. Stopped at lots of waterfalls and canyons and avalanche sites and overlooks (this guide really is into his stuff) and then made it up to Paradise where we had a great buffet lunch at Paradise Inn. This is the hub of the mountain and lots of people were getting ready to hike up. About 5 trails start here to go up different ways. Visitor's center, ranger station, interpretive movies and exhibits and weather info. It's still cloudy and it doesn't look like we'll see the mountain today. They have a beautiful alpine garden with all kinds and colors of flowers here, pretty snow-capped mountains in the distance and it's windy and quite chilly-about 55.
After lunch we started back down a different route, still looking for any sign of animals but all we saw were a couple of deer and a sleepy marmot who just wanted to be left alone. More waterfalls and canyons. At one view point you can see Mt. St. Helens, Mt. Adams and Mt. Rainier all from the same stop. And just when the guide said there wasn't much to see for a few miles we see a view spot with a lot of people pulled in and, lo and behold, the mountain has decided to come out. What a magnificent mountain! It's an active volcano, steaming every now and then (not now), 14,411' high, snowy and majestic. Just enough clouds around it to make it look spectacular with a bright blue sky background. Nobody wanted to stop taking pictures, but we have a long way to go.
Continued back down the mountain and stopped at Grove of the Patriarch Trail for a 1-1/2 mile hike through huge cedar trees that are over 900 years old. This trail followed the Ohanapecosh River, crystal clear in some spots and milky from the glacier flour in others. Had to cross a rickety suspension bridge both in and out and this had more hills than the last trail but it wasn't a bad hike at all.
Back home through the Mt. Baker-Snoqualmie National Forest and the Muckleshoot Indian Reservation, quite a large and pretty prosperous tribe. And, it's Seattle so it started to mist with the sun out, much cooler tonight too. Really tired and we have to get ready to go on another tour to Seattle tomorrow.
Diary Photos
Diary Movies
---