Harry and Judy's RV Trip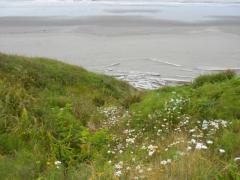 27th Jul 2012 - Summer 2012
Day 39-To Portland, OR
Day 39-July 27, 2012-To Portland, OR
Drove 272 miles in 7-1/2 hours today. Continued south on 101 through more National Park, National Forest and Indian turf, stopping at a few view points for our last look at the Pacific for a while. The beaches at Kalaloch and Queets had great views and Harry even spotted a dolphin way out. Saw signs for a tsunami gathering center atop a hill. Scary to think the ocean could rise so high. Stopped in Humptulips, WA where a man gave me the whole story about the town name as he knew it. The whole story is that it's some kind of Indian name. He volunteered this great piece of info, I didn't even ask for it. Went over a draw bridge at Gray's Harbor and then entered civilization again in Aberdeen, a real city with a Wal-Mart, shopping centers, gas stations, people. One of the houses had a palm tree in front. I thought that was really odd but it never gets really cold here so I guess it's not so odd after all.
At Aberdeen, a really nice place, by the way, we turned on route 12 to I-5 where we were reminded that civilization not only means cell phone service and wi-fi but traffic. The sun finally came out about 3PM and the temp got up to 72 by the time we got to Fairview, OR, a suburb of Portland. So, after eleven days in Washington we're now in Oregon.
We didn't plan on stopping here but the RV brakes are squealing and Harry wants to get them looked at before we start going over the Rockies again. There's a Camping World a mile from the campground and we have an appointment for Monday morning. But all is not lost, Portland is 10 miles east of us and the Columbia River Gorge (and another wine trail) is 10 miles north. I see a great week-end ahead.
Diary Photos
27th Jul 2012 Kalaloch, WA Beach
---
27th Jul 2012 Yes, Humptulips, WA
---