Harry and Judy's RV Trip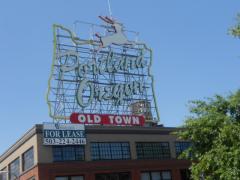 28th Jul 2012 - Summer 2012
Day 40-Portland, OR
Day 40-July 28, 2012-Portland, OR
Started the day with a Skype call to Heather, Martin & Evie and I find it hard to believe that we're 7000 miles away and still had a decent conversation and could see them all. Technology is great. The day just kept getting better from then.
We drove into Portland (the city of roses) to Washington Park. The park has a children's park, the Oregon Zoo and other things but I was interested in the International Test Rose Garden. I remember we were here last year but it was too early and there weren't even buds on the bushes. This year everything was in bloom. It's on a hill overlooking Portland and tiered so the visitor center is on top, the gardens lower. You can see Portland in the distance and beyond that Mt. Hood. Almost missed that view, the mountain blends into the clouds. The garden was started in 1917 and some plants go back that far. There are over 7000 plantings on 4-1/2 acres, 550 varieties and little gardens (like the Shakespeare Garden with palm trees) nestled among the big garden. There are different tiers and arches to the gardens and they're all immaculately kept. There was a big photo shoot going on and we at first thought it was a wedding but found out it was a Quincenaera (Mexican coming-out party for 15-yr. old girls.) There were actually two of them in the park, they arrived in Pepto-Bismol pink limos with an entire entourage, almost more elaborate than a wedding. I took way too many pictures of the gardens and have about 60 pictures of individual blooms in every color under and above the sun. They were all so beautiful and the aroma was wonderful. This place is amazing, I could stay here all day. And I don't even like roses that much.
From there we went to the Portland Saturday Market and that was crazy nuts. It was also the last day of the Oregon Brewers Festival (with 85 types of beer and entertainment) and a gorgeous day (78 and sunny) which brought all the crazies out. Walked around there for a while and then decided to go for dinner in the Pearl Section of Portland to Bridgeport Brew and Pub. We were there last year and enjoyed tasting their beers. Harry likes the dark ale so he gets a glass of that and leaves the tasting to me. I got a flight of 8/5oz. and should know better. Harry helped me with the dark ones. Their beer is really good, though. Had a great view of Mt. Hood and Mt. Adams all the way back to camp.
Lots of bike riders in Portland. They have a good electric streetcar system too. We had no trouble finding parking spaces but most people don't drive in to town. But the bike riders are crazy and ride up and down the hills really fast. The "Keep Portland Weird" sign is still up and it's still working. But it's a fun place to visit.
Diary Photos
---