Harry and Judy's RV Trip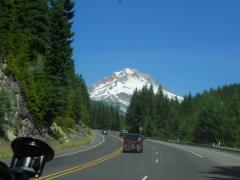 30th Jul 2012 - Summer 2012
Day 42-To LaPine, OR
Day 42-July 30, 2012-To LaPine, OR
Even when we think we're going to have a boring driving day, we get surprised. Started out boring, we dropped the RV off for the brake squeal, (they found nothing but a bit of dirt, they still squeal) and we went to do some errands. I had to have blood drawn to make sure the thyroid meds are OK. Had to go back over the Columbia River to Vancouver, WA about 20 minutes, for a Quest Lab. Then we found a AAA and got some maps and tour books for the southwest.
Left Camping World about 1:30 and instead of going straight down I-5 to Crater Lake we took Route 26 to 97. It started out as an OK road, a bit busy in town but when we got out of town we started going up in elevation and started seeing signs for Mt. Hood. We then realized we had just gone around Mt. Hood all week-end-now we were getting closer and, all of a sudden, we go around a curve and BAM! there it is, closer than we've ever been. It's so isolated and it was so warm (87) and sunny that to see a snow covered mountain was surreal. We went through towns with crazy names like Zig Zag, Rhodadendron, Snow Bunny and Government Camp at 4000' where you can downhill ski all year and where the US Olympic Ski Team practices. There were lots of chair lifts and snow activities although you had to go up the mountain to get to them.
We drove through all kinds of terrain, too from the mountains down to the Warm Springs Indian Reservation which is all plains to the Crooked River National Grasslands, through buttes, the Deschutes National Forest on the Oregon Trail, through the Mt. Hood Scenic Byway, past green farms with snow covered Mt. Jefferson in the background, cattle ranches and wheat farms in Redmond, traffic in Bend and then through the Lava Lands volcano and lava beds to our campground in LaPine State Park in Lapine, OR, which was recommended by a camper we met in Glacier National Park. It's a great campground on the Deschutes River about an hour north of Crater Lake. There's lots of resident chipmunks the size of squirrels (we're camped right over a hole) and he keeps popping up. Very quiet here, pine tree all over and we had a nice campfire. Drove 178 miles in 4-3/4 hours today. Going to Crater Lake tomorrow, should be an easy drive, maybe just an hour.
Diary Photos
---