Harry and Judy's RV Trip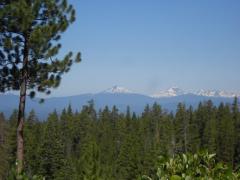 31st Jul 2012 - Summer 2012
Day 43-Volcanoes & Diamond Lake
Day 43-July 31, 2012-Volcanoes & Diamond Lake, OR
Only drove 115 miles today in 3-1/4 hours but we took a side trip.
On our way to Crater Lake we saw a sign "Newberry National Volcano Monument". Now, how can you not go there? So we turn in and drive and drive and drive 'til we see a snow covered volcano in the distance. Then a view point with some info. It's called Lava Butte and it seems this is all volcano territory, the size of Rhode Island, over 1200 sq. miles There's also two lakes here, Lake Paulina and East Lake and in between there's the Big Obsidian Flow, formed when the volcano last erupted 1300 years ago. There's lots of cross country ski and ski mobile trails, campgrounds and lake activity. The drive up was 18 miles to an elevation of 6500' and then we had to drive back down again.
The rest of the trip was uneventful, we're still on route 97 until we get to the turn off for Crater Lake on what they call "Volcanic Legacy Byway". Lots of byways out here, also lots of National Forests, today we were in the Deschutes, Winema and Umpqua National Forests and we also had a National Monument. Our campground is on Diamond Lake, about 4 miles from the north entrance to Crater Lake. The people who manage the campground used to live in Crystal River, FL (small world) so we talked to them for a while, then set up, had lunch and took a ride around the lake. A deer ran in front of us right outside the campground and I'm sure there's lots more in all the woods here. Big pine trees around the beautiful lake at the food of a snow covered volcano. Lots of dead wood so we did some fire wood collecting while we were riding. Back at camp we talked to our neighbors who gave us some great info about where to go next.
The wildlife in the campground is wonderful. The chipmunks and ground squirrels come right up to you, there's a crazy purple/black bird with a headdress that makes a funky sound and the hummingbirds at the feeder across the way dive bomb you when they come in for a landing. There's about six of them, competing for the feeder at once. They're just as territorial as the Florida ones.
Had a nice campfire again, saw lots of stars even though there's a huge brilliant full moon out. It gets cooler here at night. We needed the heat last night. This part of Oregon reminds me of Crossville, Tennessee. The hills and trees are similar and there's bright blue skies, it's sunny and warm (around 80 today), with low humidity but at night it gets chilly.
Diary Photos
Diary Movies
---