Harry and Judy's RV Trip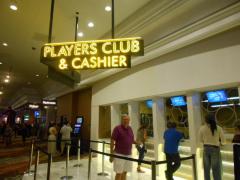 3rd Aug 2012 - Summer 2012
Day 46-Grand Sierra Resort and Casino
Day 46-August 3, 2012-The Grand Sierra Resort & Casino
Staying in the RV resort right next to the casino was a great idea, we easily walked to the casino. It was late so we decided to try the buffet before the slot machines. There was quite a line but we figured it must be worth it. We knew from Las Vegas that if you get one of the cards from the casino you usually get a break on the buffet so Harry went up to get a card and I stayed in line. We started talking to people around us and they said the buffet was $5 with the card. But they didn't know you had to be local to get that deal. But by the time Harry got back we had moved up some so we stayed. Usually we don't wait in lines but talking to other people and watching people at the slot machines made the time go by. After about an hour, give or take, we got up to the front of the line where they gave us one of those blinky things and said it would be another two hours. Oh, no it won't! So we left and went 2 doors down to Johnny Rocket's for a burger.
We got a table in Johnny Rocket's adjacent to a local radio station booth that seemed to be signing up people for something and they were all dressed in funky costumes. I asked one of the radio people what was going on and they told me they were giving away tickets to "the burning man" and also giving money to the best costume. What's the burning man, you ask? I did and I got an earful. Seems one week around every Labor Day about 60,000 people travel 2 hours into the Nevada desert to dry camp in the Black Rock area, dress in everything from neon fur with lights to pajamas, drive "art cars" and build up to 10-story structures to light them on fire after a week of revelry. There's no rhyme or reason to the costumes or cars, just whatever is artsy. People come from all over the world for this, the tickets cost about $450.00 and it's a lottery draw. Why, you ask? I did, but never really got an answer. But it didn't really matter, these were fun-loving, friendly people, most of them professional, most not youngsters either. Very dedicated, one man told us this would be his 17th year. They brought us outside to show us their "art cars", everything from a head that lit up, a car in the shape of a sardine can with fur seats that reverberated to a boom box built on a land rover body, one that resembled a diner and had seats outside and some indescribable ones, too. These took money, devotion and talent. I took their advice and went to www.burningman.com and I'm still confused. If nothing else, the "burning man" can be described as a fun-loving, care-free, artsy, nature friendly week long fair.
So, we've been in the casino for about four hours now and haven't played a single cent. We've gone to the bars and watched some bands and djs, we've marveled at the crystal chandeliers and the faucets in the bathroom where the water splashes onto black marble (no sinks) and disappears, and we've watched a lot of people. Now it's time to win some serious money. Yeah, right! Harry did win gas money, I lost lunch money, but we had a wonderful time. There's a small area that's non-smoking but most of it isn't, but they do have a good ventilation system and it doesn't smell too bad. Walked back to the campsite in the beautiful balmy air. It's much cooler when the sun goes down and the wind picks up.
Diary Photos
Diary Movies
---