Harry and Judy's RV Trip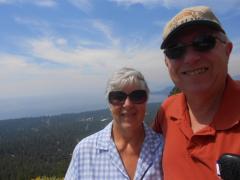 4th Aug 2012 - Summer 2012
Day 47-Lake Tahoe and downtown Reno
Day 47-August 4, 2012-Lake Tahoe & Downtown Reno
Drove down to Lake Tahoe today. Up and down the Sierra Nevada range on a beautifully scenic road. The problem was everybody else had the same idea, traffic was terrible. We got up to Mt. Rose, at 8900' elevation, the highest pass in the Sierra Nevada range that's open all year. Then down to where the road goes east to Incline Village in Nevada and South Tahoe or west to King's Beach in California and the North Tahoe. We opted for the west side because they're having "Hot August Nights" in South Tahoe, a car show that ties up traffic for miles. There's only one road around the lake and people told us the west side was prettier. "Hot August Nights" moves up to Reno on Monday so we're outta here then. We did see lots of old cars in the area already.
King's Beach and all the other beach areas we ran into around the lake were your typical summer resort spots, lots of traffic, water activities and people crossing the street in front of you. It was another terrific day, 100 and sunny, but dry. There are plenty of condos around the lake, some permanent homes, mostly log types, some very elaborate, some mere shacks. The lake is 22 miles long and 12 miles wide, 1/3 of it in Nevada and 2/3 in California. It's supposed to be 97% pure, almost distilled water. It is very blue and extremely clean, even at the boat ramps we went to. We found a cute little park for lunch, took a walk on the beach and then turned around and drove back to Nevada, through Incline Village (more tourists, lots of tourists!) and over to Carson City, the state capitol. The drive was wonderful, the mountains and plains truly magnificent. Every turn is another scenic view. Carson City is named for Kit Carson and it is surrounded by the rugged mountains and must be gorgeous in the winter. It's very clean and almost quaint for a state capitol and not what I expected. Very western and frontier-like.
Came back to Reno and decided to give downtown another try. We knew the Eldorado, Silver Legacy and Circus-Circus were all connected so we opted for those. You walk out of one casino and into another one, each with its own theme. Got a parking place right behind the Eldorado and started there at their buffet, no line at this one. And it was great, way too much food, though! It was seafood night and the crab legs, shrimp, clams, mussels, lobster bisque (OK, I'll stop there) were wonderful. Dropped down some money, I won this time, and then went to Silver Legacy, where they have a monster mining machine in the middle. From there we went to Circus-Circus but didn't stay long. Some had no-smoking areas but most didn't and I still can't get over the number of kids that are here, even infants. I think we're up a few dollars but there's always tomorrow. We plan on relaxing tomorrow.
Diary Photos
Diary Movies
---