Harry and Judy's RV Trip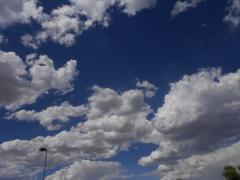 5th Aug 2012 - Summer 2012
Day 48-Last Day in Reno
Day 48-August 5, 2012-Last Day in Reno
Very windy last night, the RV was buffeted all night, some thunder, lightning and rain, too. It must have cleared everything out because we woke up to a deep blue sky with gorgeous poufy white clouds.
Threw some laundry in and then walked over to the casino to get tickets for the Cirque show tonight. We swiped our casino cards while we were there and I won $5.00 free play. I was feeling lucky so I played some slots but my luck must have been winning the $5.00 'cause I lost it faster than I won it.
Finished the laundry, did some housecleaning and then relaxed for a while. Filled up with gas (we're off to California tomorrow where gas is gold) and got some groceries (still no produce, there's an inspection station right over the line).
Went to the buffet at Grand Sierra which wasn't busy tonight and then lost some more money in the casino. I think we broke just about even for the three days we were here. The show didn't start 'til 9 so we relaxed in the WET Lounge for a little while then watched some TV at the Race Book where they had about 10 different stations on, mostly sports that you could bet on.
The show, Cirque 84 was great. It was a troupe of 19 or 20 people doing all kinds of things, juggling, balancing, the motorbikes in the cage (three at a time), pole climbing, trapeze flying, hula hooping, gaucho ball dancing, acrobatics, all kinds of entertainment. At the end they all were outside like a receiving line. I've never seen that in a show before. On the way out we stopped by WET Lounge again and had half a dance. That was all we're up to, it's been a busy three days in Reno and we're both tired.
Off to Yosemite tomorrow.
Diary Photos
Diary Movies
---