Harry and Judy's RV Trip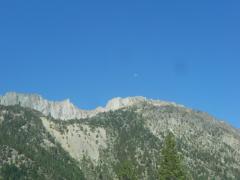 7th Aug 2012 - Summer 2012
Day 50-Yosemite National Park
Day 50-August 7, 2012-Yosemite National Park
Spent the day in Yosemite today. As soon as we turned to go on the Tioga Pass (aka National Forest Scenic Byway) we saw beautiful canyons, rocks, mountains (with some snow and the moon still above them) and waterfalls. The pass is 12 miles long and goes to the east entrance of Yosemite. The road can be treacherous and is closed in the winter. We drove up and up 'til we got to the entrance at 9945' and 65 degrees. And then we start to decline. The first thing we go through is Tuolumne Meadows, lots of streams and lakes around the meadow and it's surrounded by huge rocks and "domes"-mountains that are rounded on top. The mountains are all different colors, shapes and sizes (lots of rock slides happened recently too.) We're still going down and at about 8000' we come to Tenaya Lake, a beautifully clean lake with lots of swimmers and sun bathers. And sand. And that's when I dropped the camera in the lake. After about 40 minutes of trying to dry it out we gave up and just enjoyed the scenery. So no pictures after Tenaya Lake today. We'll have to find a Best Buy (yeah, right, in the wilderness) and see just how good the warranty we bought with the camera is. There were climbers on the mountain right across from the lake and they were making me dizzy just watching, they were so small (or the mountain was so big) that they looked like ants. Down, down, down we go where at one point we're stopped by a ranger because they're doing some road work. At this point we had smelled smoke for a while and he said there was a fire caused by a lightning strike a few weeks ago and they were controlling it but letting it burn some dead stuff away.
We passed sequoia and mariposa pine forests (the smell was great), flat rocks, three tunnels, more meadows and streams and finally got to Yosemite Valley (after 76 miles) where we stopped and ate our lunch on an old log. Very few wildflowers, just a few pink ones along the road. Yosemite Valley is at 4500' and it was 98 degrees, but dry. It's a valley in between 3000' sheer cliff walls on all sides and it is magnificent. We then got the shuttle to Yosemite Village and decided to take it all the way around the parts we didn't see. It took about an hour and gave Harry a rest from driving for a while. Very busy in Yosemite Village. Lots of people, hikers, bikers, campers, horseback riders, climbers and tourists. Really touristy and the busiest National Park we've seen to date, maybe 'cause it's close to the populated areas of California and people do a day trip here. Again, lots of people from all over, we felt like the minority. But not many British, I think they stayed home for the Olympics. There was so much traffic that there were traffic monitors at the intersections on the way out. Saw a few deer and a couple of scampering little things but not much wildlife.
The trip down was much easier, still had to go up to 9950' where it was 65 degrees again, then back down again to 6600' where our campground is but we didn't stop so much, it only took about 2-1/4 hours to go the 76 miles. The views again were spectacular though different with the sun light on different areas.
Each National Park is unique in its own way, Crater Lake has the crater, The Grand Canyon has the canyon, Yellowstone has the wildlife, Mt. Rushmore has the carvings, Glacier has the glaciers, Olympic has the rain forest but Yosemite has a little bit of everything. Maybe that's what makes it different from the rest, it has lots of beautiful scenery.
Got back to camp, very windy again, everything's blowing, this lasts 'til about 8:30 and then it's dead calm again like last night. Made dinner, looked at some maps for tomorrow (I think we're going to wing it and see how far we get) and then went to the rec room and watched the American women beat the Chinese in volleyball. Oh, and when I opened the refrigerator to make dinner I found an orange buried in the back that the inspector missed.
Diary Photos
Diary Movies
---