Harry and Judy's RV Trip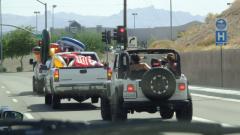 10th Aug 2012 - Summer 2012
Day 53-Laughlin, NV
Day 53-August 10, 2012
HOT again today-122 degrees. And now instead of saying "but it's a dry heat" the locals are saying "it's usually not this humid"-even they're admitting it's horrible. One man told us between here and Lake Havasu City a few miles south is the hottest place in the world. I can believe it.
We started today at the car wash to get the sand out of the truck. Got it washed and waxed and they did a really good job and no wind storm tonight so maybe it'll stay clean. Found a Wal-Mart in nearby Bullhead City, AZ and picked up my prescription. Couldn't believe how easy that went, had blood work done in Washington state, it was faxed to the doctor in Florida who then called in a prescription to Arizona. Then drove back over the Colorado River to Nevada again and went to the town of Laughlin, a really cute little town that wouldn't exist if it wasn't for legalized gambling in Nevada. We went to Harrah's Casino and signed up for the player's card and guess what we earned-two free dinners at the all you can eat seafood buffet!!!! Good thing we've sort of learned to be selective at buffets-this one was really good.
Back over the river to Bullhead, AZ again where they're starting to stage the floats for the annual regatta on the river. Over 40,000 floats (rubber rafts, some holding up to 6 people) start at the Chamber of Commerce and float down the river to about where our campground is-this all starts tomorrow and I hope when we leave we go the other way so we don't get involved in all the traffic. Back over the river again to Nevada and our campground. Starting to get dizzy going back and forth across the river. Stopped at a store to buy sneakers, both of us wore ours out with all the trekking we've been doing, they were just about in tatters, then we went back to the Avi Casino where we're staying because Harry had some credits left over from last night that he needed to either cash in or play. Needless to say, we played them and lost them but, all in all, I think we lost about $20 total. We're such high rollers. Going to try to finish my book tonight but I doubt it.
Heading east on I-40 tomorrow, probably getting about as far as Sun Valley, AZ. We heard it's just as hot there and this won't break 'til next Thursday. Spoke to my sister tonight in Colorado Springs and she said it's about 75 there and they had snow on the mountain peaks this morning. Maybe we should go north again?
Diary Photos
Diary Movies
---