Harry and Judy's RV Trip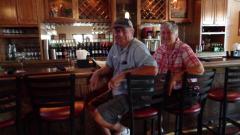 14th Aug 2012 - Summer 2012
Day 57-Albuquerque, NM
Day 57-August 14, 2012
We really slept in this morning, I think we're still on Pacific Time. Went to Camping World right next door to the campground and they replaced a strut that had broken under the bed. It was still under warranty and they had it in stock. Had some errands to run, got gas, went to the PO, had to find a T-Mobile store to find somebody who spoke English so we could pay the bill, we've been going back and forth for over a month with them, hope it's straightened out for good.
Drove in to Albuquerque (ABQ from now on) and found a little winery/bistro, St. Clair, on the outskirts of town and did a tasting. We then went across town to another one, Casa Rodena and did another tasting. Now I need food. So we went to ABQ Old Town which is mostly Mexican with a lot of Indian (mostly Navajo). We ate at Casa de Fiesta, which someone told us made "old" Mexican food the way the old ladies used to and it was really good, a bit spicier than we usually eat but not bad. The meal came with sopapillas for dessert, described as "a pillow of dough" that you drizzled with honey. Very good. We then walked around town and saw a lot of Navajo people selling handmade jewelry on the street. Started to rain some of the stores were closed but it was quite interesting to walk around and most of the gift shops were open. Big church in the middle, San Fillepe, very pretty. Lots of history here but we never got the whole story.
Right around the corner from Old Town we found lots of museums that looked interesting but were all closed. Lots of beautiful sculpture and artwork at most of them. Pretty parks and playgrounds around this part of town, too.
From there we drove to downtown ABQ and I was surprised at how tall the buildings were, very modern. Lots of financial buildings, law offices, old churches right in the middle of town. Apartment buildings right outside of town, then pretty quaint little neighborhoods with pueblo style houses then smaller, older run-down houses with lots of kids playing in yards and in the street. Just about like any city, I guess. We felt very safe in all the neighborhoods.
Came back to camp and sat outside for a while and watched the sun go down. We got a glimpse of the Sandia Mountains and why they look like watermelon (they really are bright red, but it only lasted a little while when the sun was in the right place). The sky changed too from bright pink to hazy blue to gray. We watched a storm in the distance. The campground is high up and we get a good view of everything from up here it's really flat with the mountains far off. Saw a little rabbit in the campground hopping around, I hope he likes to eat rocks, dirt and sand, that's all he'll find here. Started to get very windy again, felt good at first but then it starts to blow everything around so we came in and read for while.
I really enjoyed ABQ and had a really nice time here. This might be a come-back-to.
Diary Photos
Diary Movies
---