Harry and Judy's RV Trip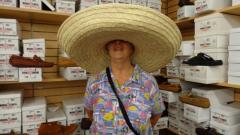 15th Aug 2012 - Summer 2012
Day 58-Amarillo
Day 58-August 15, 2012-Amarillo, TX
Drove 304 miles in 6 hours today, all of it on I-40 East. Seems like we've been on this road forever. This interstate replaced Route 66, the main road between Chicago and Los Angeles but they both run together for quite a while. Lots of funky 50's stuff still on Route 66 like the campground yesterday and Cadillac Ranch, a row of Cadillacs buried halfway in the earth west of Amarillo. That was the only sight that broke up the boring ride today, and if you didn't know it was coming you missed it. I only got a glimpse and I think Harry missed it altogether. Very flat the whole trip, some gusty side winds, too. We gave up on the Jason Bourne book on tape, it was too deep and too hard to concentrate so we started a James Patterson one, this one's much better.
We started out at an altitude of 6000' and went down to 4000' in Amarillo but it's hot here, 98 today, although a nice breeze and it cooled down at night. We also lost an hour when we entered Texas and Central Time but it also meant that at 9PM we still had enough light outside to read.
We're definitely in wide open space country, the sites at the campground are really spread out and nice and level. Free coffee and donuts in the morning, too. We didn't unhook because we plan on leaving first thing tomorrow morning. We're also finding that our Passport America 50% off membership is being honored at campgrounds here because this is the off season in the south-it's too hot. The campgrounds we stayed at out west and north didn't give us 50% in July or August, the ones in the south don't give it off starting in Oct. So we're getting campgrounds for half price now.
We're on the east side of Amarillo so we drove through the city on our way to the campground and it's a really big city, spread out for quite a few exits on the interstate. They seem to have every store imaginable in town.
They have a restaurant in town (which is only about 2 exits from the campground), The Big Texan Steak House, that we've seen advertised for about fifty miles. If you can eat their 72oz. steak in an hour, it's free. They don't tell you how much if you can't. They have a free limo from the campground that will take you there and back but we opted to have fridge clean out night and eat our leftovers. Only a few people have eaten the steak but they say just about every night somebody tries it and it's fun to watch. Went for a dip in the indoor pool first, very refreshing, although swimming at 4000' takes your breath away a lot quicker than at sea level.
We're sitting outside now waiting for the stars to come out. It's really comfortable weather wise, a nice warm breeze, but not hot. Hopefully with the time change our internal clocks will let us get to sleep at a reasonable hour so we can get up and on the road again tomorrow, heading southeast (off of I-40 finally) toward Dallas, although I don't think we'll get that far.
Diary Photos
15th Aug 2012 I think it's too big
---
---