Next adventure Southern Africa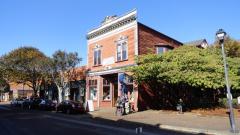 16th Oct 2012 - 17th Oct 2012




Eureka - Willits - Napa CA



Inzwischen sind wir im Norden von Kalifornien angelangt und es ist schon spürbar wärmer geworden. Nach Eureka verlassen wir die Schnellstrasse und fahren 53 Kilometer auf der parallel verlaufenden "Avenue of the Giants" durch den Humboldt Redwoods State Park. Die nur hier in Nordkalifornien und Südoregon wachsenden Küstenmammutbäume sind bei der Holzindustrie sehr beliebt und bis 1920 waren bereits fast 90% abgeholzt. Mit der Gründung von 3 Stateparks in den 1920er-Jahren und dem Nationalpark 1968 konnte im letzten Moment noch ein grösseres Stück Wald vor den Motorsägen geschützt werden.
In Willits übernachten wir und am nächsten Tag fahren wir durch das Mendocino County und Sonoma County nach Napa, vorbei an vielen gepflegten Weinbergen. Angekommen in Napa und aus dem gekühlten Auto gestiegen müssen wir uns zuerst leichter kleiden. 32 Grad hatten wir schon lange nicht mehr und morgen sollen es sogar noch mehr sein.



Diary Photos
---
---
16th Oct 2012 Redwood Statepark
---
16th Oct 2012 Redwood Statepark
---
16th Oct 2012 Redwood Statepark
---
16th Oct 2012 Redwood Statepark
---
17th Oct 2012 White Oak Winery
---
17th Oct 2012 White Oak Winery
---