Hedy + Peter back on the road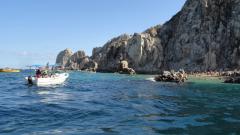 2nd Jan 2013 - 4th Jan 2013




Cabo San Lucas, El Arco



Wahrzeichen von Cabo San Lucas und meistbesuchte Sehenswürdigkeit ist "El Arco". Die 62 Meter hohe bizarre Felsformation ist der südlichste Punkt der Halbinsel Baja California. An seinem Ende vermischt sich die warme Sea of Cortes mit dem kalten Pazifik. Bei Ebbe kann man vom Playa del Amor dem Strand entlang zum markanten Bogen und untendurch spazieren. Den richtigen Zeitpunkt hätten wir schon, aber es steigen nur wenige aus den Wassertaxis oder Glasbodenbooten, weil es keinen Steg hat und das Meer sehr unruhig ist. Auch wir lassen es bleiben, da wir nicht in den Kleidern bis zu den Hüften im Wasser stehen möchten. Nach dem Bootstrip ist höchste Zeit für den Apero und da haben wir keine Lust, zuerst in den Campground zum Kleiderwechsel zu fahren.



Diary Photos
2nd Jan 2013 Cabo San Lucas, Playa del Amor
---
2nd Jan 2013 Cabo San Lucas, Playa del Amor
---
2nd Jan 2013 Cabo San Lucas, Playa del Amor
---
2nd Jan 2013 Cabo San Lucas, El Arco
---
2nd Jan 2013 Cabo San Lucas, El Arco
---
3rd Jan 2013 Cabo San Lucas, El Arco
---
3rd Jan 2013 Cabo San Lucas, El Arco
---
4th Jan 2013 Cabo San Lucas, Sunset
---