Debbie does...round the world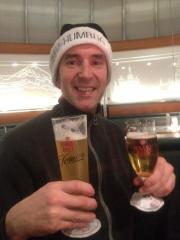 15th Dec 2012 - 17th Dec 2012 - Bremen Germany
Bremen, Germany
Beks - a friend of mine invited a small group of us to go and stay with her parents in her hometown of Bremen to visit the Christmas markets and generally have a good time.
We all went to Stansted separately on the Saturday morning - Martin and i leaving at 0330 for the drive. Arrived in good time and the other 5 arrived a few minutes after us. Flew Ryan Air - easily the cheapest and flew direct to Bremen. £60 each return. Flight was full and its was the usual Ryan Air mad rush for seats etc. The flight was full and because you pay for baggage the overhead lockers are always extra full. However an easy and cheap way to get to Bremen.
Caught a taxi from the airport to Bek's parents house - about 5 euros each. An amazing breakfast waiting for us on arrival as 1000 in the morning. Gorgeous fresh breadrolls and meats and cheeses and spreads and coffee and champagne greeted us. So nice to be in a proper sized house as well. her parents were exceptionally welcoming but have limited English and all of us having limited German.Took the train everywhere over the weekend. Saturday afternoon included a Beck's Brewery tour - gave mine away of course but the local brew proved a hit with the others. Food at the market for dinner including Elk sausage. then to a bar for the best frozen strawberry daiquiris ever - I managed to get 4 down.
The two couples slept on airbeds in the lounge area and the three singles sharing Bek's old room.
Sunday - after a sleep in for everyone we again had a long leisurely breakfast - Martin amazes me sometimes with the amount his skinny body can pack in. Didn't get the train until about 1300 and walked around the Christmas Markets - eating and drinking mulled wine and then propping up the little bars.
Monday - Kat left at the crack of dawn but the rest of us still had the day there. Packed and after another leisurely breakfast said our thanks and headed into Bremen. Beks was staying for Christmas so borrowed her parents car for the day and took Karen and Sheena and I into town with Chris and Martin taking the train. More looking around the markets but hardly anything was brought.
Back to that airport late afternoon and Ryan Air back to Stansted and a good drive home.
Wonderful weekend away overall and so impressed with Bek's parents for putting us all up. Great memories of good friends and wonderful breakfasts.
Diary Photos
---