Harry and Judy's RV Trip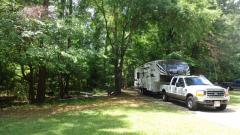 6th Jun 2013 - 9th Jun 2013 - Summer 2013
Day 1-4-June 6-9, 2013-Homosassa, FL to Branson, MO
Day 1-4 June 6-9, 2013-Homosassa, FL to Branson, MO
Took us four days to drive 1058 miles but we took our time and stopped a lot.
Left Thurs. morning, drove an hour and realized the brakes on the RV were very hot so we pulled over in Chiefland, FL at a repair shop to have them looked at. Had to wait about an hour and a half for somebody to check it out and by then they cooled off and were fine. Haven't given us any more trouble since then (knock on wood). By the time we got back on the road Tropical Storm Andrea was in full bloom and it was really raining hard all the way to Tallahassee but after that we went northwest and Andrea went northeast so it got better. Stopped for the night in Dothan, Al right after we crossed into Central Time Zone. Nice campground right on the main road so we can get an early start tomorrow.
Friday morning found us with another glitch, the struts on the bed broke last night…no jokes, please! Thankfully there's a Camping World right in Dothan, which is quite a big city known for its peanut farming, and the part is under warranty so it only put us back about an hour. We took Route 231 to Montgomery where we pulled over and had lunch at a pretty sketchy parking lot so we didn't stay too long then continued up Route 82 to Tuscaloosa. Route 82 is 125 miles of 2-lane road with nothing but run down shacks and abandoned small businesses to Centerville, then another 125 miles of 4-lane road and more nothingness. But we did stop at a roadside stand and got some great peaches and plums. We like stopping at local places and getting a glimpse of different places and people, one of the reasons we're trying to stay off interstates and use the roads less traveled. Last night was cool but during the day it got up to 85 and humid. Stopped for the night in Fulton, MS, east of Tupelo at a Whitten Park, a US Army Corps. Of Engineers Campground in Tombigbee State Park. Beautiful campground on a 234 mile waterway, three fishing piers and lots of boaters there for the week-end. Beautiful big sites (ours was 98' long) and nice and wooded. Federal campgrounds are always beautiful and usually around $10 a night. Again, we didn't unhook the RV so we could get an early start. Long day today, 350 miles, 9-1/2 hours.
Saturday morning we decided to rearrange the bikes on the back of the RV. The rack looks like it's starting to bend so we put one bike on the ladder on the back and left one on the rack. Hopefully it will work, in the past we've had lots of trouble with bringing bikes. Decided to go the I-78 which involved driving straight through south Memphis and getting every red light there was but after Memphis we took Route 63 to Jonesboro, AR and the traffic got lighter and we started to see some small corn and wheat farms. A few small planes were buzzing overhead and we couldn't figure out if they were crop dusting or just out for a Saturday ride. Jonesboro is a college town (U of AR) but not much else going on. Again stopped at a campground off the main road and didn't unhook.
It's Harry's birthday and I hope he had a good day. It was a day of technological troubles, though. For some reason his e-mail kept bouncing messages saying he was over his quota, so if you sent him a birthday greeting on e-mail he might not have gotten it. We made many calls to the cell-phone company and the e-mail provider who were of no help at all. And we had to pull over at a McDonald's in order to get wifi to check it out. After one last phone call to no avail he started to play with the parameters himself and seems like he fixed it.
After dinner we decided to watch a DVD we brought. Turned on the tv and nothing! Tried this, that, the other thing until Harry finally realized the power had gone out at the campground. We still had lights, although we had remarked that they were a bit dim. Plugged into a different outlet outside and now we have tv but no picture from the DVD. Found the manual, read it umpteen times, almost gave up and read it one more time and finally saw the line that said "Input Select-DVD" button. Wrote down that one line where we're bound to see it the next time we want to watch a DVD. Of course now it's almost 11 PM so we never finished the movie. We watch the tv so rarely we never remember how it works. (I can see Martin laughing at the old people screwing up the electronics again).
Sunday started rainy and all day it sprinkled here and there. We took route 63 and 62 through small towns, some tourist paradises with antique shops and memorabilia stores like Hardy, AR buzzing with shoppers along narrow, crowded streets, others just had two or three store fronts, most closed for Sunday. Drove through Salem, AR then stopped at Lake Norfork Marina east of Mt. Home, AR. Pulled over in the marina for lunch and watched some Canada geese and some boaters out for a Sunday ride. Back on the road and it's getting winding and hilly now, then mountainous-we're entering the Ozark Mountains, up and down, round and round. WE HAVE NOW VISITED 49 OF THE 50 STATES, Missouri being #49-Alaska still remains. Got to Branson and stopped at the Tourism Center to pick up vouchers for the shows we booked during the week. Got some info and travel perks and headed to the condo we have for the week-it's called Cabins at Green Mountain and they're gorgeous. The whole complex is nestled among trees which at first gave us a start-how do we navigate the narrow roads, tree-lined paths with the big RV, but they have an overflow parking lot where we parked it for the week. Had to unpack all the food and clothes and "stuff" we'll need for the week, but it's close enough where we can go back and forth to it if need be.
The condo itself is wonderful. It's all done in light knotty pine, ceiling, walls and floors, all the same. The whole condo is rustic, woodsy log cabin motif, from the moose print sofa to the antlers on the chandeliers. The first floor has a living room with a vaulted ceiling, fireplace, pull out sofa-bed. Full kitchen, washer/dryer, dining room, king size bed, bath that goes through from the bedroom to the dining room. Screened-in porch in the back the whole length of the condo with picnic table and rockers at tree-top height, so the bird action is great. Upstairs is another king size bedroom and bathroom bigger than downstairs. Very homey and comfortable-we should really relax here during the week. Uncorked a bottle of wine, had some dinner and started to plan for our upcoming week here.
Diary Photos
Diary Movies
---