Harry and Judy's RV Trip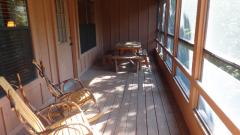 10th Jun 2013 - Summer 2013
Day 5-June 10, 2013-Branson
Day 5-June 10, 2013-Branson, MO day 1
Hot today, 94 degrees, unusual for here, humid too.
Branson used to be called the "country music capital of the universe" but now it's much more. There are over 50 venues with over 100 shows during the week, lots of tribute shows for every kind of music you can imagine, but also comedy acts, animal acts, Chinese acrobats, etc. Also a zoo, butterfly museum, Ripley's, wax museum, Dolly Parton's Dixie Stampede, showboats, a water park, an amusement park, zip-lines, a scenic railway, etc. There's a half scale replica of the Titanic where you can get an actual feel of what happened- (we're gonna skip that). And of course a duck tour that ends in the lake.
8 Million tourists come here every year, mostly from Oct. to Dec. when the famous entertainment returns. We're going to see some Branson staples but most of the big name acts are not here in the summer-go figure!
The main "strip" aka "Country Music Blvd." is 5 miles of route 76 where most of the action is-hotels, restaurants, theatres, mini-golf, etc. Lots of traffic but there's a free trolley that moves through town and three color coded roads around the "strip" to help you get other places traffic free.
After breakfast on the porch with the birds we drove to Wyndham Resorts where, despite having sworn to each other not to do a time-share pitch we did a time share pitch. We signed up for this yesterday at the Tourism Center and got some nice perks for it. The woman who was our sales person asked us why we were there, we told her for the perks and we spent the next hour talking about our families, where to eat, what to see, and had a great conversation with her. Not once did she mention the time share. She gave us some great info, like going to the theaters to get our tickets for shows before the shows so we could save time so that's what we did when we left her. From there we went to Wal-Mart to stock up on some food. Lots of places to eat in Branson but no grocery stores.
Came back to the condo and read a bit, then had dinner and headed out to our first show, caled JEERK, named for the surname initials of the founding members. There are only four members now, all Swedish. I couldn't recall what kind of act they were probably because they do a little of everything, they say they are tap-dancers, a rock band, a percussion band that incorporates bottles, trash cans, hockey sticks, carpet mats, tin barrels, huge wire spools and they even did a spot at the end with walkers like they were old and rickety men and a comedy act with a four crazy Swedes in red plaid trousers. They do their own choreography, music, lighting, etc. and they are extremely entertaining. Music ranged from hard rock to almost classical, really talented guys. Our seats were front row center stage and the stage is only two feet high so we had a great view. After the show we went for ice cream at an arcade/game type area with a go-kart track that went up four stories and a lot of other crazy rides. We ate ice cream, didn't do the rides.
Had another run in with a DVD today, got the tv to work, but not the DVD.
Diary Photos
---