Harry and Judy's RV Trip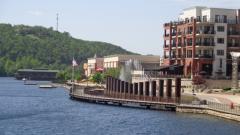 12th Jun 2013 - Summer 2013
Day 7-June 12, 2013-Branson
Day 7-June 12, 2013-Branson
Busy day today, seemed we were going from 8AM to almost midnight.
Getting used to eating on the porch with the wildlife-I love it. You'd never know we're 1 block off the main strip, it's like we're in the middle of the woods! Hot again today but not as humid and much breezier.
Went to the south side of Branson today to Branson Landing where there is lots of shopping, mostly stores like you'd find in any mall but they're outside. They have a dancing waters fountain designed by the same people who did Bellagio in Vegas and it's just as pretty but not as big. They play Whitney Houston's National Anthem every hour on the hour and the fountain dances with the music, some fire blasts, too. One of our perks for doing the time share was a paddle boat cruise on the Queen of the Lake up and down LakeTaneycomo which meets Table Rock Lake and then becomes part of the White River. Nice ride, but it's hot-even on the top of the covered boat.
Got off the boat and had 19 minutes to drive to the theatre to see Joseph Hall's Tribute to Elvis, a show we got tickets for $5 because we saw the Haygoods last night. Seems the Haygood Production Corp. owns both theatres so we got cheap tickets to this show. We had seen lots of ads for his show and I had said to Harry during the day that Joseph Hall has zero sex appeal and an Elvis he's not and now we have tickets to see him. We could have skipped it but the theatre was air conditioned, we had cheap tickets and nothing to do 'til later so why not? We made it to the show in 19 minutes just as they were closing the doors and although I thought we'd probably leave half-way through it turned out to be very entertaining. Joseph Hall knew he was and would never be even close to Elvis which was part of his charm. He did a pretty good impersonation, was very humble with a good sense of humor, had a great voice and knew how to woo the audience, especially the 70 year old and up ladies who were Elvis freaks. Watching them was almost as entertaining as watching the show. Good music, good time. Third row seats this time. Again, this was a family venture, his Dad was the emcee and a woman who could have been his grandmother (he's 26) was following him around as he was passing out sweaty scarves. Yes, he actually did that! He also said his 20 month old son and wife were in the audience. I liked this guy but probably would have liked him better had he been himself.
Hadn't eaten since breakfast and there is a little Mexican restaurant right down the street (again on the strip-there's everything you want within that 5-mile strip). The woman from the time share had recommended this place and she was right-it was terrific. Owned and run by 3 sisters and 2 brothers who did everything from seat you, cook, bus tables and run the register. They made us promise to come back tomorrow night for fajita night-we'll see. We then went back down to Historic Branson, another shopping area with the main store being Dick's 5 & 10-like the 5 & 10's from way back when, if you want it-they have it. Hills are steep all over town but in this side of town they're really steep-probably as steep as San Francisco just not as long.
The show tonight is at the Mickey Gilley Theatre and it's called Six. I thought this was six singers singing a-capella but that was only the tip of the iceberg. They are six brothers (there's 10 brothers in the family but only the oldest six are in this group). They're older than I expected ranging from probably early 40's to early 50's. They each have a "signature" color of the rainbow which is on everything from wristbands to teddy bears to their individually custom painted Cameros parked outside the theatre. An announcement on the screen said the sounds you hear from now on are made by only SIX. HUMAN. VOICES. The billboards say"Six Voices/Zero Instruments/All Music" and call it an "Orchestra of Human Voices". I expected a-capella singing but these guys not only sang but they were the band. One brother was the guitar, one the sax, one the cymbals, etc., and they demonstrated this at the beginning. I must not have been paying attention because the whole first half I was thinking they had drums and a bass but I found out at intermission one of the middle brothers, Jak, was the bass. They did a little bit of everything, Frankie Valli, The Beach Boys, Michael Jackson, Justin Bieber, The Temptations, Four Tops, Satchmo, Sinatra, I could go on and on. And funny!!!!!! This was a comedy show too! Some impersonations, too. They got the audience up on their feet, rolling in the aisles and enjoying a great show. At one point they did a segment with car chases and chariot races on the screen and they did the sound effects from the Dolby Surround Sound to the final splash in the water. Had one couple up on the stage dancing and involved the whole audience in intermission. The second half was more gospel music, pure a-capella, without the instrument sounds, just voices. They performed a song they wrote for their mother, who died a while back with a backdrop of slides from their past, introduced Dad who was in the audience and one of the wives was selling their CDs and memorabilia. Did a tribute to the military, past and present and finished with some more great gospel music. Best show we've seen yet. I was exhausted just watching them, they really worked the stage.
Had to go back to Andy's Custard for some late night energy, of course. That seems to be one of the places people go after the shows, it's always crowded.
Diary Photos
Diary Movies
---