Harry and Judy's RV Trip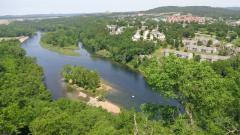 14th Jun 2013 - Summer 2013
Day 9-June 14, 2013-Branson
Day 9-June 14, 2013-Branson
Cooler this morning, but 95 in the afternoon.
Started the morning at the Tourism Center to get tickets for one last show tomorrow night. Both Harry and I have had enough singing and dancing acts and it was between a ventriloquist with a talking dog or the Acrobats of China. We heard the talking dogs got old after 20 minutes but the acrobats were wonderful. These seats are 7th row center aisle. The tourism center buys up blocks of seats so not only are they cheaper but they have the best seats. We've had great seats for every show.
Drove to Table Rock Lake State Park which is about twenty minutes south-a beautiful man-made lake that was formed in the 20's when they built a dam system to help with flooding from the White River. Lots of boating going on today-it's a beautiful day for it. We had packed a lunch and found a picnic area right on the lake. From there drove to the dam and walked around the visitor center for a while-quite interesting.
Stopped in a crafts "mall" and watched a man blowing glass and making tiny birds from glass. Then stopped in the other winery in town-no tour with this one but we did a tasting and they had a better selection of wines-more to our taste than the one we did the other day.
The hills here are really steep. When you park in certain parking lots you have to be careful your brake is on hard or you could roll. And if you park perpendicular it's hard to get out one door and hard to close the other and you feel like you could tip sideways. And some parking lots are in the back of stores so you drive down a steep hill and then have to walk up. Or in the case today at the winery you have to be careful you don't taste too much wine or you'll roll back down to the car. Of course that would never happen to one of us.
Back to the condo and did a bit more laundry, then looked at more campground books to make sure we know where we're going when we leave here. We booked a state campground for two nights west of Kansas City in Lawrence, Kansas. My sister called last night to tell us about the fires in Colorado Springs, where we thought we might be headed. Hopefully they'll be contained by the time we get there.
Had dinner in the condo then drove back down to Historic Branson and looked around. Stopped again at Wal-Mart for some last minute groceries.
Diary Photos
14th Jun 2013 Overlook of Table Rock Lake
---
14th Jun 2013 Us at Table Rock Lake SP
---