Harry and Judy's RV Trip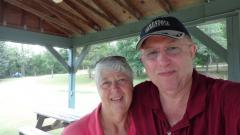 15th Jun 2013 - Summer 2013
Day 10-June 15, 2013-Last day in Branson
Day 10-June 15, 2013-Last Day In Branson
Cloudy, rainy all day, cooler, 75 degrees. Almost chilly at night.
This is our last full day in Branson, we travel to Kansas tomorrow and it was another busy day. In the morning Harry went to the RV and fixed the bed. One of the struts that holds the mattress up so we can store stuff underneath broke but, you know Harry, the way he fixed it will last forever. I did some more laundry, the washer's convenient but small, hard-boiled some eggs for the trip and did some packing up. Went upstairs to the second bedroom for only the second time since we've been here. It's more spacious than the one downstairs, has a king size bed and a jacuzzi tub encircled by stone walls, more closet space, a TV and would be very comfortable for a second couple.
Packed a lunch and headed 50 miles south to Eureka Springs, AR. We bought a building lot in a place there called Holiday Island about seven years and haven't been there since. We drove the only road that goes there from Branson, up and down and round and round the Ozark Mountains, very mountainous but not a bad ride, a 2-lane road with not much traffic and no lights. There's a campground at the development and we stopped there for lunch and met the campground manager. It's kept really well, as is most of the development, but not many homes have been built, more up near the golf course than we're we are but they all look nice. Our lot is on Wild Turkey Dr., it's really wooded and goes up the mountain a bit but is buildable. Not that we'll be building there. Ever. Very peaceful, quiet with lots of singing birds. There was a big thunder, lightning and rain storm just after lunch but it didn't last long. Drove down to the marina on the property where there were a lot of boaters mostly coming in after the storm.
From there we drove to Eureka Springs, about 15 minutes down another windy road. This place was hopping on a Saturday evening. There was some kind of biker rally going on at one of the restaurants and the place was packed. This is a tourist haven. It's known for its medicinal spas and has become an artistic (dare I say, hippy) village, with lots of sculpture, pottery, artwork, blown glass and beautiful victorian homes, many of which are on the historic registry of buildings. There's also a railroad and museum right outside of town. Trolleys were busy bringing people around. Although it's small, it's a cool place to walk around and see the sights.
Drove back to Branson (on the same road through the Ozarks) and had just enough time to have dinner in the condo and get to our show at the New Shanghai Theatre, the Acrobats of China. This show was totally different from the other shows we've seen, but it was great. The acrobats come from Shanghai every March and stay 'til December. There were about 20 performers in the show we saw but there's more here and they rotate doing shows. They tumbled, twirled, did balancing acts, contortion acts, magic, did stunts on stacked chairs (8 high), flew through the air on silks, hula hooped, did hoop diving (4 high) and mask changing. They did stunts with a diabolo (like a yoyo) and more. There was a segment with two women roller skating on a platform only 6' in diameter and they were spinning each other around. Another ballet stunt where after the dance the woman climbed on the man and proceeded to stand on one tip toe on his head. Couldn't get over the strength, agility and grace they had.
We weren't allowed to take pictures during the show but the came out to the lobby after the show for pictures. After the show we went to Jackie B. Goode's Uptown Café (a 50's type soda joint) for a malt, the went to the RV to turn the fridge on so it's cold when we leave tomorrow.
Although we are both ready to move on we agree we would come back again. The people here have been more than helpful, courteous and friendly. The town is very much into "God and Country". Every show we've gone to and even the boat ride has made it a point to honor and thank veterans in special ways, usually at the beginning of the show. Special benefits for vets here too, there's Veteran's Visitor Center and even the billboards acknowledge their service. Churches of different denominations all over, even right next to theatres. After every show the entertainers have done a "meet and greet" in the lobby where they talk to the people, sign autographs, etc. They are proud of their town and are not ashamed to tell you about it, some of them have come from the Ozark Mountains and wouldn't move anywhere else. And I've mentioned before they are all into family-this is a family place. There is no gambling, no bars (although you can get a drink in any restaurant), no "gentlemen's clubs", etc. and they roll up the streets every night between 11PM and midnight, just enough time to get your ice cream after the last show. Every show and amusement is family friendly, the kids at the shows we saw had a great time and everything is reasonably priced. The streets are clean, well-kept and safe. On the minus side there is no grocery store-only one Wal-Mart on the far side of town that sells limited groceries. Either everybody in the town (pop. 10,520) eats out or the locals are hiding their best markets from the tourists.
But there's so much more out there to see!
Diary Photos
Diary Movies
---