Harry and Judy's RV Trip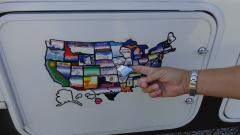 18th Jun 2013 - Summer 2013
Day 13-June 18, 2013-To Russell, KS
Day 13-June 18, 2013-to Russell, KS
Sunny and warm all day-almost 90, then rain at night.
While hooking up and getting ready to leave we found three scorpions and were reminded that we're in the west now and have to be on the lookout for critters we aren't used to seeing. These aren't Florida scorpions that just sting, these are the real mean guys.
Didn't get on the road 'til 11:00 but we're not in a rush, our next campground is only 205 miles away in Russell, KS and it ended up taking us 4-1/4 hours, we pulled in about 3:15.
Drove I-70 all the way. We had taken back roads through Kansas last year and it wasn't pleasant so we decided to stick to the interstate through Kansas this year. It was a very pretty ride through tall grass prairies, flint rock hills, wheat fields and cottonwood tree stands. The flint is actually called "chert" and is a limestone rock that was used by early settlers to make posts because there were no trees on the prairies. The limestone gets harder as it's exposed to air and there are numerous posts all along I-70 and in town many homes, buildings and yard ornaments are made from it.
I-70 runs through all kinds of farms, wheat, sorghum, corn and even wind generator farms. 90% of Kansas terrain is agricultural and 1/5 of the US wheat comes from here so it's known as the Breadbasket State. We drove through Topeka, Fort Riley in Junction City the home of the 1st Infantry Division with over 100,000 acres and nearly 12,000 personnel. Then on to Abilene where the Eisenhower Museum and Library is and finally to Russell who's main claim to fame is that it's the home of Sen.Bob Dole. He was one of the lucky ones that got out. The campground we're staying at has two reindeer that run around the mini-golf course. I think you can understand why nobody plays mini-golf. We found a nice little winery run by a very friendly couple who name their wine after something that means something to them, either their dog's name, his middle name or something else in their lives. They've made a nice little tasting room out of their garage that's just as nice as any tasting room we've seen. Their wines were very different and we found a couple that we really liked. Drove through town (don't blink) and then back to camp just in time before the sky got black, the Kansas wind really started whipping and the rains came down.
Diary Photos
Diary Movies
---