Harry and Judy's RV Trip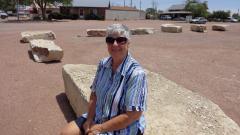 20th Jun 2013 - Summer 2013
Day 15-June 20, 2013-Canon City, CO
Day 15-June 20, 2013-Canon City, CO
Wind died down during the night. Breezy and warm-95 (but dry) in Canon City. Smoky. Wind picked up at night again.
Drove 175 miles in 5 hours on I-70 to Limon, CO then south on 24 to Colorado Springs then 115 and 50 to Canon City. I-70 was flat grasslands with huge ranches where the cattle could graze forever on nice green grass. This area is called the high plains and it's flat as a pancake for as far as you can see.
When we got to Falcon a little north of Colorado Springs we started to see smoke from Black Forest where the fire is still only 85% contained. This is also where we started to get our first glimpse of the Rocky Mountains looming in the background. What a majestic sight that is! Really takes your breath away.
Got into Canon City about 2:30 and set up at the Starlite Classic Campground, where they have all kinds of retro cars and RVs on the property for rent. The owner restores old cars and he's got a 1958 Chevy, a 1959 Rambler and a 1960 Dodge all hooked up to old RVs. Not to mention the 69 Beetle and vintage Airstreams. He's also got a lot with a sign that says "Boneyard" with old cars he hasn't gotten to yet. The owners told us he restored a bunch of cars and RVs for his brother in Albuquerque for a campground and come to find out we stayed in that campground last year-it's a small world. The smoke has settled in town-seems there are still fires around and the smoke drifts in during the day with the wind, settles in the valley (town) and then blows out again at night. The campground is high on a mountain so it's not as smoky here but you can still smell it. The campground and part of the town was evacuated last week and they're just starting to get back to normal.
Sharon came to the campground and we talked for a bit, then drove back into town to see her office and had dinner at Pizza Madness, a place we remembered from the last time we were here two years ago. Went to a couple of craft shops, then back to the campground. Gorgeous red sunset! Looked at the maps and decided where to go from here.
Diary Photos
Diary Movies
---