Harry and Judy's RV Trip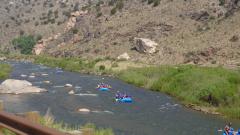 22nd Jun 2013 - Summer 2013
Day 17-June 22, 2013-Salida, CO
Day 17-June 22, 2013-Salida, CO
Sunny, warm-85-not as smoky!
Harry was woken up early by the horses at the riding stable across the street-I didn't hear a thing.
Short drive day-only 45 miles in an hour and a half. Drove west on route 50 to Salida, CO, all the way with the Arkansas River on our right. It's Saturday and the White Water Festival is on so there were rafts full of people coming down the river. I waved to most of them as we drove by and they looked like they were all having fun-the ones that had just come over some big rapids looked a bit thankful to still be alive. They say the river is swollen from the melting snow on the mountains in mid-June and there are a lot of kayak and raft races during this time. What a gorgeous drive, through Bighorn Sheep Canyon (we didn't see any), then back up the mountain, down into another canyon, round and round the twisty, curvy road, every now and then a pull out to set your boat in the water or a rafting place where you can rent rafts. At one point we started seeing mountains with snow still on the sides where the sun doesn't shine.
We're at Four Seasons RV Resort right on the Arkansas River. After we set up we drove two miles into Historic Downtown Salida-hard to find a parking spot but we found one right on the river where there were people coming down the river in rafts, a place where you could practice your rafting moves, a calmer lagoon just to cool off (even the dogs liked that) and lots of people. The town has an abundance of art galleries, studios, pottery stores, consignment and antique stores, and very unique arts and crafts. There were a few people on stilts and some little girls playing the violin on the side of the road. There was an art walk going on today, Shakespeare in the park later and an ice cream parlor we had to stop at where we met a woman from Brooklyn and another from West Hartford. Left historic downtown and got back on route 50 and visited a couple of wineries. At one there was a man, Mo, playing a Chapman Stick, a weird sort of wooden stick with strings but he didn't strum it, he just touched the strings and made sounds. It was similar to a guitar but very unique. We then went to Wal-Mart on the stretch of town that is one of those Anytown, USA places. Stocked up on some groceries and came back to camp and read. We're under some beautiful aspen trees and it's nice and shady-not as hot here either-we're getting a nice breeze from the river.
The fires are still the topic of conversation with everybody you talk to. Some people think they're from carelessly thrown cigarettes, others say just a piece of glass (like a broken bottle) on the side of the road ignites the dry grass when the sun hits it. However they start they're really a threat here-9 fires are still burning nearby and route 50 south is closed to South Fork. The smoke isn't as bad here tonight so we're trying to air the RV out-it smells smoky. Found a lilac bush at one of the wineries and picked some to put in the RV and make it smell nice.
Took a walk after dinner and saw the beautiful "super" full moon and lots of stars. Met a 7-month old pygmy pot belly pig named "Oliver" who was running away from his owner because he was mad that he was cooped up all day.
Diary Photos
Diary Movies
---