Harry and Judy's RV Trip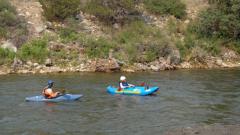 23rd Jun 2013 - Summer 2013
Day 18-June 23, 2013-Salida, CO Campground
Day 18-June 23, 2013-Salida Campground
Cool last night, needed an extra blanket, probably in the 50's, warmed up to maybe 80, then windy and chilly at night.
Stayed at the campground all day, did some chores, laundry, straightening up, etc. A lot of campers are going home after the week-end so it's really quiet here all day. Saw some pretty birds-found out they're Western Tanagers-red head, yellow body, black and white wings. Other birds too, some mad when you walk under their trees, they've just had babies and are protecting their brood. Arguing hummingbirds, too, they're never satisfied with how much food they have. Trees are pretty here too. Some Russian Olives, very silvery leaves, poplars, cottonwoods and some that I haven't found out about yet, one very tall and upright, another almost like a willow. Dozens of lilac bushes on the property but they're all past their bloom-it must have smelled great here a month ago.
Watched some more rafters and a flock of Canada geese on the river. Not too many people today, the week-end's winding down.
It was clear in the morning, then got smoky about noon. Cleared out again and then about 5PM the wind picked up and we could see the smoke coming over the mountain. Someone said there was a new fire on the other side of the mountain.
Looked at maps again, cemented where we're going for the next few days and I finished my book. Beautiful cherry red sunset again (maybe because of all the smoke?) and full moon. Watched a DVD we brought.
Diary Photos
23rd Jun 2013 Rafters past the campground
---
23rd Jun 2013 More smoke coming
Diary Movies
---