Harry and Judy's RV Trip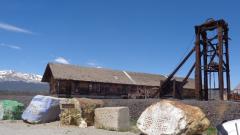 24th Jun 2013 - Summer 2013
Day 19-June 24, 2013-To Central City, CO
Day 19-June 24, 2013-To Central City, CO
Drove 151 miles in 6-1/2 hours. No smoke all day! Much cooler.
Today was all about the journey, not the destination. Grab a large cup of coffee (especially you, Betty) 'cause this is gonna be a long one.
Drove a few miles to Poncha Springs, CO ("Crossroads of the Rockies"), then veered north on Route 285, 24 and 91, otherwise known as "Top of the Rockies Scenic Byway", which is exactly that. We drove on top of the Rockies all day. This is probably the most scenic road I've ever been on. We were surrounded by mountains on all sides all day, starting with the snow capped Sangre de Cristo mountains in the distance and huge ranches in the foreground, still with the Arkansas River on our right. Some kamikaze prairie dogs darted across the road almost daring us to bring it on. We passed the highest point in Colorado, Mt. Elbert at 14,433', then went down into the town of Leadville at 10,200', which is the highest incorporated city in the country. Somebody told me about this town but I forgot who but, whomever you are, thank you, this was a great stop. This is an old mining and railroad town that, while mining for gold, they found heavy black sand that is carbonate of lead and was loaded with silver, so they not only mined gold here but silver, too. We came across an old deserted mine right in the middle of all that black SAND! Took me a while to figure out how to get over the stream to get a sample of that sand but rest assured I did. The town of Leadville was bustling with tourists and very interesting. We took a wrong turn and ended up in a residential section that had teeny houses that must have been for miners or railroad workers. Some were redone in bright colors and some just looked rundown. A wonderful mixture of the old and the new in this town. The lilacs are just blooming way up here in the mountains and they're beautiful. The Mining Hall of Fame is in Leadville too but we skipped that and continued on our way.
We then went through Freemont Pass at 11,320', where it was only 55 degrees, and then started down the mountain. We knew there was a tunnel somewhere up ahead but weren't sure we could go through it with propane so we stopped at a visitor center in the town of Frisco, between Vail and Breckenridge. Another bustling town, this one more modern and more upscale, its main attraction the skiing and shopping. Ate lunch in the RV in the parking lot and continued to Silver Plume, where we pulled over just in time to see the scenic train going by at the foot of the mountain.
At the next exit in Georgetown we saw a sign "Bighorn Sheep Viewing"-could we pass this up? No way! But it seems it was too hot for the sheep at the lake so they were probably all back up the mountain. But wait-is that a Wine Tasting Room ahead? Could we pass this up? No way!
Up and down, up and down, all day up to over 11,000' then back down to 8,000, now only seeing pine and fir trees. The tunnel was the Eisenhower Memorial Tunnel and right smack dab in the middle of it was the Continental Divide, also a sign warning about wildlife in the road. There's now a raging river on our right with rafters and zip lines and fishermen and waterfalls. We've got about 15 miles to our exit and-BAM-dead stop. We had been seeing signs saying traffic was stopped ahead but there was no other route so we had to go this way. Sure enough, we sat in traffic for over an hour to go 9 miles. But we had great entertainment with the rafters and zip liners right off the road. Stopped in Idaho Springs, "Where the Gold Rush Began" for gas then continued to the exit. This is mining country, some gold mines are still in operation and there are mines dotting the landscape here and there all through the mountains. The Central City Parkway is 8 miles of switchbacks and steep climbs up rock lined mountains. We had been warned by the campground not to follow the GPS because it took people on "Oh My Gawd Rd." a steep, narrow, windy dirt road. I kept saying "Oh my Gawd" on the main road (from now on called the road from Hell) which was bad enough. In Central City there was a hairpin turn that I can't believe Harry made with the RV, then up, up, up to the campground which is at 9200'. By the time we got out of the truck I felt dizzy from the altitude. It's been hard to breathe for a few days, too. Drink, they say. OK, I can do that.
Didn't get to the campground 'til almost 6:00 so we just had dinner, took a walk around, and read for a while. There's a shuttle that goes from the campground down to Central City (on the road from Hell) every hour and we thought about taking it tomorrow instead of driving ourselves. We'll see what happens. We're here for three nights so we have time to see what's around. Right now I have "Sensory Overload" and just need to sit and ponder all the spectacular sights we saw today.
Diary Photos
Diary Movies
---