Harry and Judy's RV Trip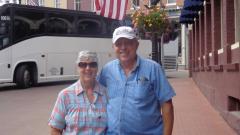 26th Jun 2013 - Summer 2013
Day 21-June 26, 2013-The Casinos and the big winner!
Day 21-June 26, 2013-Central City and Black Hawk, CO Casinos
Sunny and warm, 85, cool at night.
Spent the day at the campground until about 3PM, then we headed out to the casinos. Our first stop was at Century Casino in Central City. Central City has lots of little shops, an opera house, museums and is known as "The Richest Square Mile on Earth" because of all the gold they found there. They advertise as "Where History Lives and Luck Happens". Well, not for us. We played a few slot machines but we didn't have much luck. Their perk for signing up with the club was half off at the restaurant and Wednesday was Seniors half off day anyway but we weren't hungry and we knew we could get a better deal somewhere else so we headed down the hill a mile to Black Hawk. Black Hawk doesn't fool around with stores and such, they just have casinos and hotels.
We figured the big hotels and casinos would give us more for our money than the smaller casinos so we went to the biggest (tallest) one we could see-the Ameristar. Very pretty inside, reminds me of Mohegan Sun with all the pine trees and wood accents. Their club perk was play 'til you reached 25 points and you get a free buffet. We had planned on playing anyway so we had nothing to lose. We both put in $20 and after about an hour I was doing great and was up to $78 and had 18 points, Harry had $3 and 15 points. We figured we could pay for the buffet with my winnings so I was going to play down $75 and Harry figured he might as well play all of his $3. That's when he started to win, and win and win. And then I started to win more, too. In the end we came out really nicely ahead, Harry won the mega jackpot and I won the maxi jackpot. We enjoyed the buffet , then came back and started to get ready to move on tomorrow.
Diary Photos
Diary Movies
---