Harry and Judy's RV Trip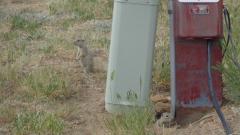 27th Jun 2013 - Summer 2013
Day 22-June 27, 2013-Rocky Mt. Nat'l. Park & Estes Park
Day -June 28-2013-Rocky Mountain National Park and Estes Park
Sunny and warm today, not as hot as yesterday. Cool at night.
Packed lots of different things into today. First made an appointment for Monday at a truck repair shop about 100 miles away to check the brakes on both the RV and truck. They recommended a campground about a mile away from them and we're all set to stay there. From there we plotted where we could be on the 4th and made sure there are campgrounds available.
We then drove a few miles to the Stanley Hotel, a magnificent 140 room hotel that was built partly by the man who invented the Stanley Steamer and also the inspiration for Steven King's "The Shining". The TV series was filmed there and it was also The Danbury Hotel in "Dumb and Dumber". Supposedly very haunted, I didn't go in…..but it's very eerie sitting on top of a mountain looking down on Estes Park. The management runs the movie "The Shining" on a loop in all the guest rooms….way too spooky for me to ever even go in.
Drove back down the mountain to the town of Estes Park and walked around. Typical tourist town, lots of souvenir shops, ice cream and salt water taffy stores, jewelry, crafts, clothes and an abundance of outdoor wear and equipment stores. Hiking is big here. There's a nice riverwalk on the Big Thompson River and a free shuttle that goes from one end of town to the other. We had a great Reuben and Greek salad for lunch and then drove to the Beaver Meadow Visitor Center of the Rocky Mt. Nat'l. Park to pick up the free shuttle to Bear Lake. Good thing we took the shuttle, most of the ten mile road is under construction and is only dirt. Very bumpy, dusty and if we took the truck we would have turned around after the first mile. Bear Lake is gorgeous, we took the walking path around it, a nice easy jaunt. We're still having a hard time breathing and we're now at 9475'. There's a place in town called "The Oxygen Sanctuary"-Refresh, Acclimate & Rejuvenate and it sounds better and better. Found a little mound of snow that refuses to melt up there. Saw a few elk at another visitor center but not much wildlife besides that.
Came back to the RV for dinner, then went back to town for ice cream and a grocery store to stock up. On the way back we saw a beautiful lightning show in the distant mountains, but it didn't last long and we didn't get any rain out of it.
Diary Photos
Diary Movies
---