Harry and Judy's RV Trip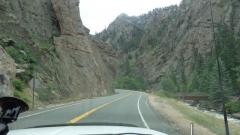 30th Jun 2013 - Summer 2013
Day 25-June 30, 2013-To Cheyenne, WY
Day 25-June 30, 2013-Leaving Colorado
This weather is gorgeous! 78, sunny and dry, which is great considering most of the country is suffering with over 100 degrees.
After enjoying Colorado for over ten days we're leaving to go elsewhere. Looking at a map I realize we haven't seen a whole lot of the state and very little of the Rockies but there's so much more out there to see. We drove east on Route 34 through Roosevelt National Forest through deep canyons with huge mountains on either side and the Little Thompson River always right next to us. It's Sunday and fly fisherman are everywhere. This river is catch and release only but we learned that it's because there are so many tourists in this area they don't want the tourists taking all the fish but there are other rivers where you can keep the fish. Little cottages and log cabins all along the river, this is a fisherman's paradise. This is also big horn sheep country but we didn't see any. After forty miles of twisting, turning hairpin turns always going down in elevation we get to I-25 in Loveland and, all of a sudden, you'd think we were in a different part of the country. We're back in civilization with stores everywhere, from the little Mom & Pop grocery to the big box stores, every chain imaginable, theatres, outlets, a Wal-Mart and K-Mart across the street from each other. And the terrain has changed. BAM! We're back in the plains again, everything is flat with the Rockies in the far distance to our left. Big Budweiser plant here and a Budweiser Events Center, too. Loveland, CO and Fort Collins, CO are beautiful. I've heard they were both up and coming cities but they are really nice, clean, lots of parks, a big lake and great weather. Elevation is better too-we're at 6100' instead of 8200' which is what Estes Park was. Much easier to breathe.
We then turned north on I-25 into Wyoming where we stopped at the Welcome Center for lunch and to get some maps and brochures. Our campground is only 20 minutes away in Cheyenne but we're early seeing that we only came 100 miles today. Got gas, which was 44 cents less here than in Colorado-glad we waited (and the Gas Buddy app is saving us a lot of money).
Got set up at camp-what a nice place. It was recommended by the man that's going to look at the truck and RV brakes tomorrow. There are a lot of big moths here and a lot of fat robins dining on them. The robins come right up to you, one even flew into the truck when we opened the door. Decided to do some laundry while we had the chance-the camp laundry is only a few steps away from our site and it's not that expensive. Problem is that there's a Bar-B-Que restaurant right in the campground close to the laundry and you can smell BBQ. It's owned by the same man who owns the campground-smart move, a lot of people just pull in here for the night and they're hungry and don't want to drive in to town for food. And they deliver right to your camp site. But we decided to eat in the restaurant, small place, maybe 5 tables. The ribs were the best, we have enough for tomorrow. A fire truck pulled in as we were eating and they said one time they had so many fire and police cars here at once that people stopped to see if everything was OK-it was, they were just eating. We talked to the owner's step-son (who checked us in when we arrived) while we ate. And then the owner stopped by and talked for a while. Seems everybody does everything here. Took a walk around the camp and met a family from Kansas City who are tenting on their way to Yellowstone. They were playing a game called Ladder Gate and invited us to join them. Fun game, Harry and Trenton won, Yana and I lost. Came back to the site and read for a while. We hear a lot of fireworks even though there's a fire ban-big fireworks, we don't know if they're private or from the city. Getting really cool out-supposed to go down to the low 50's tonight.
Diary Photos
---