Harry and Judy's RV Trip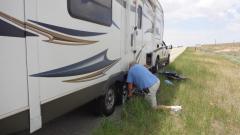 3rd Jul 2013 - Summer 2013
Day 28-July 3, 2013-To DuBois, WY
Day 28-July 3, 2013-Oy Vey, Change of plans, a shredded tire and DuBois, WY
WHAT A DAY! Beautiful weather again, 85 and sunny! Drove 201 miles in 7 hours.
When we got in the truck this morning we had reservations all set for the next few days, first going up to Hardin, MT for a couple of days then west to Gardiner, MT (North Yellowstone). But everybody says the Grand Tetons are so beautiful and we're so close to where we are now but totally in a different direction from where we intended to go. We'd never come back that way this trip so I made some more phone calls, found a campground in Victor, ID, southwest of the Tetons. But there's a 10% grade for 7-10 miles and it would take us too long to get there in one day so I kept calling until I found a campground about half way in DuBois, WY. OK, so now I have to cancel the original reservations. Not a problem, except the cell service here is spotty at best, but it gets done. By the way, Harry hates when I do this, he wants to just set a course and stick to it. I keep second guessing it.
Not much to see on route 20/26, just a lot of prairie and sagebrush, very flat and empty with quite a big head wind, so we were just settling in to start the book on tape we've been listening to while driving through "somewhere", WY and we hear a "pop". Oh, no, what's that? Why, a tire has shredded. The tread just peeled right off of it. You know, one of the brand new tires we bought right before we left home to replace the tire that had the bubble in it. Or was it the one we bought to replace the one where the steel belt was separating? Anyway, we call 24/7 roadside assistance who finds us via the GPS but, like I said, we're in "somewhere, WY", it's the day before a holiday week-end and the closest place is in Casper, where we just left 60 miles ago. So they'll be here in about two hours. Meanwhile I spied some antelope on a ridge near us and watched them for a while. But, you know us, we're impatient, so Harry starts to change the tire himself. Luckily, the lug nuts weren't on as tight as the last time so he was having some degree of luck when a nice fellow (Jared) pulled up with his 4-year old daughter (Cailyn) and insisted on changing the tire. I struck up a conversation with Cailyn who was so excited that Daddy just bought "big" fireworks and she had stars and stripes glasses and a big pinwheel for the festivities. I told her Daddy was a hero and to be sure and tell Mommy that. He followed us into "town" which was about 25 miles away to make sure we were OK. And did I mention the damage to the RV? Called the insurance company and filed a claim but it's a holiday week-end so we'll see. Also called the tire store where we bought the tires to prepare them for when we get home with the shredded tire. Got on the road but with no spare so I called around and found a tire store about 50 miles in Riverton, kind of in the direction we were going. Stopped there, (it poured as soon as we got there for about 3 minutes, then dried right up), they mounted two new tires and within an hour and a half we were all set again. They checked out the other tires, gave us some info on what to see in DuBois and wished us a happy holiday and safe trip. Such nice people all around this country! This could have been a disaster.
Continued through the Wind River Indian Reservation and started to see sandstone formations and then magnificent mountains. At Union Pass up the road the Columbia, Mississippi and Colorado Rivers all converge and then go their separate ways.
Our campground is wonderful, right on the Wind River. We were met by a deer in the campground when we pulled in, there's a stable with 4 horses right behind our sight, a big indoor pool and spa, game room, and the town of DuBois is a block away. They pronounce it "DuBoyz"-the man at the visitor center told me they Americanized it when it was settled. The town is like a little old western town-it still has wooden sidewalks, saloons, art galleries with cowboys doing the artwork and sculptures-beautiful! Also a piano player right on the sidewalk who also owns and runs the jewelry store. A few restaurants but nothing fancy and a big old mine in the middle of town where every Thursday they have a hoedown. Really friendly, cute little place-all about the cowboys. And they're having a parade down Main St. tomorrow and I heard some people saying "everybody" will be at the parade. If I knew it was this nice here I would have made reservations for a couple of more nights. I almost thought about changing our itinerary again but that didn't work out too well this morning so we'll just stick with Plan A. Or B. Or whatever.
Diary Photos
Diary Movies
---