Harry and Judy's RV Trip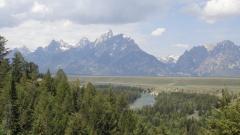 4th Jul 2013 - Summer 2013
Day 29-July 4, 2013-Grand Teton National Park
Day 29-July 4, 2013-Grand Tetons National Park
HAPPY 4TH OF JULY!!!!! Great weather again, 83 and sunny.
Traveled 173 miles in 7-1/2 hours-lots of stops in the Tetons!
We stayed on route 20/26 through the beautiful Togwotee Pass and the Continental Divide at over 9500 through beautiful meadows with wildflowers, horse farms, dude ranches, tackle stores, tanneries, taxidermists, riding stables and farms and huge ranches. "Open Range, Loose Stock" and "Be Bear Aware" signs quite often. We saw lots of horse riders out today and later on the Snake River in the Tetons rafting seemed to be the sport of the day down the crystal clear river with the mountains on both sides of the canyon.
We stopped at Snake River overlook in the Tetons and also at Moose Junction visitor center where a ranger was giving a talk about beavers and moose. Mt. Moran at 12,805 almost looks dwarfed by Grand Teton Mt. right next to it at 13, 772'. Both are still snow covered and they say even this time of year you could get a snow storm through here. Drove through miles of Kelly green meadows and the National Elk Refuge and then the towns of Jackson and Jackson Hole, so busy on 4th of July. Shopping and tourists everywhere and I think there was a parade through here this morning. Instead of going the short way to Idaho, Route 22 with the 10% grade that everybody we spoke to said don't even try it with a trailer, at Moran Junction we opted to go south to Hoback Junction, following the Snake River and rafters all the way, then back up north at Alpine via route 31, the Teton Scenic Byway, which was scenic but a horrible road, all chopped up with 6% grades. It was probably 50 miles and an hour longer but people at the campground still said we'd be nuts to go the other way with the RV.
Campground's great, they treated us like welcomed company when we pulled in. Very friendly owners and campers. Read, relaxed, ate, took a bike ride and a walk around the campground. Doesn't get dark here 'til almost 10. Lots of kids and the campground is full. They warned us about the sudden winds here and about 7 the wind really picked up and then died as fast as it started. Watched some fireworks but they were pretty far off.
Diary Photos
Diary Movies
---