Harry and Judy's RV Trip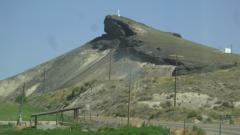 9th Jul 2013 - Summer 2013
Day 34-July 9, 2013-Haircuts and Wine
Day 34-July 9, 2013-Haircuts and wine
Hot 96! And sunny!
Today we both decided we really need haircuts so we drove through Marsing and Caldwell looking for a place but ended up in Nampa where we pulled into a salon but the door was locked so I went next door and asked at a real estate agency where to get a haircut. The man walked me to the back of the strip mall, went into a shop where there was only one woman cutting hair. She was too busy but called her partner who came in within 10 minutes and gave us both great haircuts.
On this road is Lizard Butte, a huge rock formation with a big white cross on the top. I couldn't understand why it got this name until I viewed it from a certain angle and then, WOW, it does look just like a lizard.
We killed enough time and by now it was early afternoon so we found a winery, Huston Winery. They had some nice tables set up under a big apricot tree so we had the lunch we had brought before going in for a tasting. We were met (and joined for lunch) by Huston, a big ole black dog who sat diligently between us while we ate. Huston Winery is run by Gregg Alger, who taught us quite a bit about wines in this region, known as the Sunnyslope Wine Trail. The winery is on Chicken Dinner Rd. and their "house" wine is called Chicken Dinner Red or Chicken Dinner White. (which was one of the best whites I've ever had). When he heard about our wine travels, Gregg suggested we start our own rating system, sort of like Wine Spectator magazine and Harry is thinking about it. By the way, their Chicken Dinner White would rate a 92 on their scale.
From there we went down the road to Fujishin Family Cellars and Lost West Winery where we tasted some more nice wines, but the best part of this visit was definitely Helena, the wine pourer. She is in her late 20's, had left the Amish Community when she was 15 and was the Bishop's daughter which made it more difficult for her to leave. She doesn't speak to her eight siblings or parents and they have funerals for member who leave. She is going to Boise State University and studying Quantam Physics with an emphasis on alternate energy, specifically from water. What a difference from leaving school at the 8th grade to raise a family which is what she would have to look forward to in the Amish culture. I could have talked with her for hours but it was closing time . There are so many amazing stories from people as we travel around this country.
Talking to local people gives us many new ideas about places to visit on our trip, places we've never heard of but would love to see. So maybe instead of going left at the next turn, we'll go right and see what's there.
Back to camp to watch the birds again. The little robins come out on the grass after the nighthawks leave, and there's quite a lot of them, too. After dinner we sat outside and talked to Gracie, a 10-year old old-soul that lives here at the campground. It stayed light enough out to read 'til almost 9:45, then we took a walk around the campground. It's a bit cooler tonight than it was last night.
Diary Photos
Diary Movies
---