Harry and Judy's RV Trip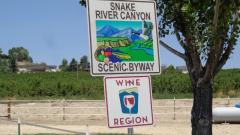 10th Jul 2013 - Summer 2013
Day 35-July 10, 2013-Laundry and Wine
Day 35-July 10, 2013-Laundry and Wine
Hot again today-100. The locals feel the heat more than we do, although by afternoon we were also starting to melt. They say it was 108 here last week. We also have to remember we're in the high desert and need to drink more water, we've both had some issues with not drinking enough.
First order of business-do laundry while we have the opportunity. This campground is worth staying another night, it's only $11.25 a night, the laundry has a lot of machines so we can get it done fast and there are 32 wineries in a 32 mile radius around here so we have a lot of exploring to do, so we're staying another night here. There's no way we can do all of them but we did manage to go to three-Williamson Orchards and Vineyards, Bitner Vineyards (where we bought some Menopause Merlot, would you believe) and Ste. Chapelle, which we've been to before, love their wine and tasted and bought some Almond Roca Cream, which tastes just like butterscotch greatness. Also stopped at an orchard and got some apricots. The cherries are gone already and the peaches, pears and apples aren't in season yet. There are a lot of orchards here on roads named Pear Lane, Peach Place, Plum Drive and Apricot Rd. For those of you (Heather) who are worried that we drink and drive, don't be. I don't drive and after tasting at three wineries Harry has the equivalent of maybe one glass over a period of three to four hours. We usually share a tasting which is a lot less than that.
Back at camp to read, I finished my book ("You've Been Warned" by James Patterson, loved the book, not so much the ending), relax, have dinner and get ready to head out tomorrow.
Diary Photos
---