Harry and Judy's RV Trip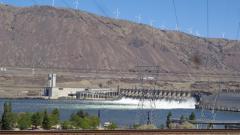 13th Jul 2013 - Summer 2013
Day 38-July 13, 2013-Columbia River Gorge-Oregon/Washington
Day 38-July 13, 2013-The Columbia River Gorge-Oregon & Washington
Drove 101 miles in 2 hours on I-84 to Rufus, OR on the Columbia River Gorge.
Weather is wonderful again, 85 and sunny.
After we set up in the campground we drove over the Columbia River to the Washington side and scenic route 14. Our first stop was Stonehenge, an exact replica of the one in England that was built by Sam Hill (of "where the Sam Hill are we" fame) who planned to build a hotel on the spot but it burned down before it opened so in 1917 he built this to honor the men and women who died in WW1. It overlooks the Columbia River, many vineyards and in the distance you can see Mt. Hood, which dominates the skyline to the east. We then went to Maryhill Museum, again built by Sam Hill (the whole town is named Maryhill). I never got the whole story, but supposedly he built this mansion for his Romanian wife (?) or Queen Maria of Romania (?) so she would stay and live here. The only part of the story that everybody agreed on was that it didn't work and she didn't stay. The mansion is now a museum and has Russian artifacts among other things.
This area is part of the Columbia River Gorge Wine Trail "A World of Wine in 40 Miles", so from there we went to Maryhill Winery, a winery I have been hearing about for the past three years from people we meet. It is really pretty, sits high on a cliff, has a huge amphitheater where Hall and Oates and Willy Nelson are scheduled for concerts this summer, a bocce court that anybody can use, and a nice patio and tasting room. Lots of people had brought lunch and were enjoying a gorgeous day, a good folk trio for entertainment and good wine. It was a final contender for "Winery with the best view" in 2012 and the view was spectacular but the whole place almost seemed kind of "uppity" for us. I hope we're not turning into the opposite of wine snobs.
So we moved on to Jacob Williams, another winery down the road, this one tiny compared to the first but the wine was just as good. It wasn't on a cliff but the view was still magnificent, the Columbia River Gorge is wonderful. Our next stop was Cascade Cliffs Winery, and we spent a lot of time here talking to Jared, originally from New York. We also met some people from PA and New Jersey. Very friendly bunch. Still driving on Route 14 we spotted a herd of deer all huddled in the shade of a copse of trees and stopped to take some pictures.
But our last stop was the best of all. We drove over another bridge back into Oregon to The Dalles. The winery was The Historic Sunshine Mill Winery. It's a huge flour mill which was used by Nabisco from 1908-1978. When we first pulled up the parking lot was empty and it looked like an abandoned old factory. We parked and walked around to the front where there were tiers of seating and flower beds. When you enter the first thing you see is a huge gold colored motor and big gears and equipment. Through another set of doors was the tasting room, still with gears (the original ones we were told) all over the ceiling. The building was very unique and had lots of history to it. Really an interesting place. Drove through the town of The Dalles where there was a Jammin' July Festival going on, a pre-cursor to their round-up in a few months. Never hurts to get started early. We didn't stay after hearing it was a bunch of rock bands but came back to the campground for dinner and to sit and watch the beautiful scenery. The campground is right on the gorge and it's a great view.
Diary Photos
Diary Movies
---